Villains
Talk

0
2,406pages on
this wiki
Villains was a tribe from Survivor: Heroes vs. Villains.
The tribe was composed of 10 handpicked former castaways that were known for their previous acts of manipulation, deception, and duplicity. Despite being weaker physically than their rivals and somewhat dysfunctional, they remained a strong force due to their teamwork and puzzle solving abilities. Their tribe color is red.
Tribe History
Edit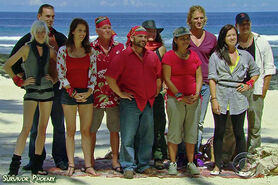 At the start of the game, every Villain, aside from Jerri, Rob, and Danielle, wondered why they were on the Villain tribe, and what they had done to be labeled as such. During the first reward challenge, though, they proved themselves as the injury tally for the Heroes kept rising; Stephenie LaGrossa's shoulder was dislocated, Rupert Boneham broke his toe, and Russell nearly broke Tom Westman's leg. Despite their determination, however, the Heroes prevailed.
When they first went to camp, Rob took charge, igniting the flame for his and Russell's conflict. Meanwhile, Russell was up to his old tricks by forming separate alliances with both Parvati and Danielle, which eventually became one due to Danielle and Parvati's friendship. The Villains redeemed themselves at the Immunity Challenge on Day 3, thanks to Rob's puzzle solving skills.
The Villains proved to be one of the most dysfunctional tribes ever, as lots of tension tainted the air around camp. They won the next Immunity Challenge, again because of Rob. The tribe did falter at the third Immunity Challenge, however, where they were destroyed in a sumo-style battle tournament. That night at Tribal Council, they tribe voted out Randy because of his age making him a liability.
As the tribe won the next two Immunity Challenges, the tribe was obviously split into two clear-cut alliances: Russell, Parvati, and Danielle, and Rob, Coach, Tyson, Sandra, Courtney, and Jerri. On Day 15, both tribes had to vote somebody out, and Rob decided to split his alliance's votes to ensure that either Parvati or Russell would go home, in case one of them had a Hidden Immunity Idol.
Sure enough, Russell had already found the idol, and was aware of Rob's plan. He approached Tyson, completely lying that he thought it would be a great time for Parvati to be voted off. Tyson agreed to vote off Parvati, instead of Russell (who Rob had assigned as his vote). That night at Tribal Council, Tyson was shocked when Russell gave Parvati the Hidden Immunity Idol, which she played. With Parvati's four votes being extinguished, Tyson had the next most, with three. After he was voted out, Tyson called himself the victim of his own stupidity.
The Villains seemed to crumble for the rest of the tribal phase of the game after Tyson's blindside, losing the next Immunity Challenge. Russell managed to swing Jerri over to his alliance with his charisma, and his target being Rob. With Jerri's help (and Coach voting against the weakest Villain, Courtney), Russell was able to eliminate his biggest rival in a 4-3-1 vote.
After returning from camp, Sandra and Courtney harbored anger towards Coach for not voting with them and causing a tie. Russell was satisfied with how perfectly his plan had worked out. When the tribe lost their second Immunity Challenge in a row, Russell decided to play around the idea the Heroes had perceived as an all-female Villains alliance. Wanting to toy with their heads more, Russell, Parvati, and Danielle agreed to vote out Coach at Tribal Council, since they already had two votes in Sandra and Courtney. Coach was voted out at Tribal Council, 4-3.
At the following Reward Challenge, Coach's ouster furthered the Heroes' belief of a girls' alliance on the Villains tribe. The Villains pulled off a win and won a trip to an Outback Steakhouse, where Sandra was reminiscent of times with her husband and Parvati uncovered a clue to another Hidden Immunity Idol, telling only Danielle about it. Once they got back to camp, the girls quickly found it. At the Immunity Challenge, the Villains lost and J.T. Thomas slipped Russell the Heroes' Hidden Immunity Idol, in order to ensure his safety and that he would join the Heroes when the looming merge occurred.
The Hidden Immunity Idol slip gave both Parvati and Russell a laugh, as it came with a note saying to use it to blindside Parvati that evening. Russell decided to keep the idol and vote out Courtney that night at Tribal Council, letting the Heroes think he played it, only to eliminate Courtney.
On Day 25, the Villains left their camp and relocated to the Heroes' camp for the merger.
Russell Hantz was not known by cast members of the earlier seasons because his season hadn't been aired yet when the 20th season was being filmed because Survivor: Samoa and Survivor: Heroes vs. Villains were filmed back-to-back, with only a 20-day break in between. Additionally, since his season had yet to air before Heroes vs. Villains was filmed, Russell was forbidden to divulge anything about his season to the other castaways.
The Heroes and Villains are the second and third tribe names in the U.S. version of Survivor to come from the English language, after The Outcasts.
As of the latest season, Randy Bailey and Jerri Manthey are the only Villains that haven't yet reached the Final Tribal Council in any of the seasons they have participated in.
The Villains tribe is the tenth red tribe on Survivor.
The Villains tribe is the more diverse tribe in Heroes vs. Villains, containing two castaways from Survivor: Tocantins, and the rest being individual representatives of their original seasons in their tribe.
The Villains is the ninth starting tribe to have three of its members comprise the Final Three. The others were Tagi, Ogakor, Boran, Chuay Gahn, Koror, Fei Long, Malakal, Foa Foa, La Flor, Ometepe, Upolu, Salani and Galang.
The Villains had the most members to win at least one season of Survivor, with four. Sandra Diaz-Twine won both Survivor: Pearl Islands and Heroes vs. Villains, Parvati Shallow won Survivor: Micronesia, Rob Mariano won Survivor: Redemption Island and Tyson won Blood vs. Water.
The Villains is the second red-colored starting tribe of Randy Bailey, Rob Mariano, and Courtney Yates, following Fang, Chapera, and Fei Long respectively.
References=
Edit