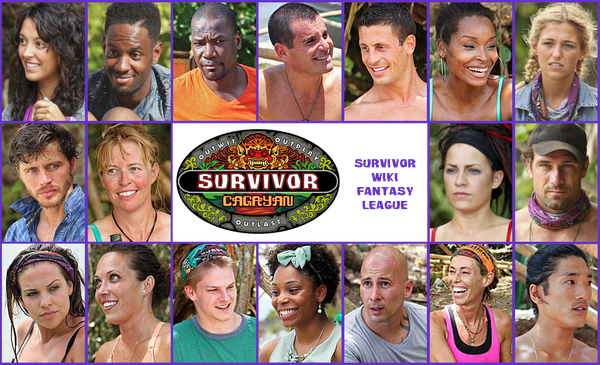 Welcome to the Survivor Fantasy League: Cagayan edition! I'm MisterDenisov (or Des, it you prefer), and whether you've got the brawn, brains or beauty, you've come to the right place for a good ol' time.
Below are the rules of the game, followed by a list of categories that will score points throughout the season. If you want to participate in the game, reply to this thread with your picks for your team! Remember, get in early to get the team you want. Entry into the game will close as soon as the premiere episode airs.
The Rules
1. You must be a registered Wikia user.
2. There is a strict NO SPOILERS policy with this game. If you know what's going to happen, keep it to yourself and please don't participate and spoil the season for the rest of us.
3. You will need to select FOUR castaways to make up your Team. You do NOT have to select both men and women, nor people from both tribes - though, of course, you can if you want to! There is no limit to how many people can select a single contestant, but no two people can have the EXACT SAME line-up. For instance, everybody can have Tony on their team if they want, but only one person could have the team of Tony, J'Tia, Spencer and Alexis.

4. The four people on your team will score points on a weekly basis, based on the categories below. The points are listed below. There are points on offer for post-elimination events, so just because one of your castaways is eliminated, it doesn't mean they'll stop scoring you points!
5. In addition, we will post a list of Bonus Questions every week. This will allow you to keep scoring points even if your whole team is eliminated! There will be Regular Questions (say, "Who will be voted out?" and "Who will win the immunity challenge?"), as well as Special Questions that will change week-to-week! You will need to submit your answers to us before the next episode airs. Every correct answer will earn you an additional 5 points. For the first episode's Bonus Questions, follow this link!
6. There will also be League Points, given out over the course of the season. They are:
1st Place on the League Ladder each week (20 pts)
2nd-10th Place on the League Ladder each week (10 pts)
First team eliminated (all four castaways voted out) (30 pts)
Last team standing (all four castaways still in game) (30 pts)
6. At the end of the season, the person with the Highest Combined Score (counting Team Points, Bonus Points and League Points) will win the League!
The Categories
These categories apply for every episode. Every time a contestant fulfils a category, they will score the relevant points, which in turn, will be points for whoever has them on their team. We should add that these won't necessarily be the only points we'll award - if a new twist is introduced during the game, I may introduce a new category to cover any exciting developments from that!
And best of all, until the airing of the first episode, these categories are open for discussion! If you think of a really great category that you think should be included in the list, post it below! If you think that something is worth too many points, or not enough points, let us know. I have the final say, but since this is a community game, I figured everyone should have a little input!
Challenges
Wins Tribal Reward (10 points)

Second Place in Tribal Reward (5 points)

Wins Tribal Immunity (15 points)

Second Place in Tribal Immunity (10 points)

Wins Individual Reward (20 points)
Wins Individual Immunity (30 points)
Sits Out Challenge (-5 points)
NOTE on COMBINED challenges: In the case of a combined Reward/Immunity challenge, the highest scoring category would be used, PLUS five points. So, in the case of a Tribal R/I challenge, the winning tribe scores 15 (+5) points, and 2nd place scores 10 (+5).
Tribal Council
Voted Out (-30 points)
Votes "Right" against the person who goes home (10 points)
Votes "Wrong" against someone who doesn't go home (-10 points)
Per Vote Against (-2 points per vote)
Plays Hidden Idol Correctly (20 points)
Wastes Idol (-10 points)
Medivaced (-20 points)
Quits (-75 points)
Twists
Receives Idol Clue (10 points)
Finds Idol (20 points)
Finds "Super Idol" (30 points)
Other
Names Episode (30 points)
Gives Away Immunity – any form (-15 points)
Gives Up Reward (15 points)
Picked to Go On Reward (5 points)
Per Confessional (5 points each)
Mentions a Contestant Already Eliminated (5 points)

The Eliminated Contestant ALSO scores (5 points)

Mentions a Former Contestant (5 points)
Reads Tree Mail (5 points)
Makes Pop Culture Reference (5 points)
Names Merge Tribe (30 points)
Votes for Winner (20 points)
Votes for Loser (-10 points)
Placement
1st Place (100 points)
2nd Place (75 points)
3rd (only for a Final 3) (50 points)
Juror (30 points)
Merge - only if merge starts before the Jury (20 points)
Last Person Standing from the original tribe (20 points)
The League
A COUPLE NOTES
If you would like to help with tallying points each week, please get in touch with me ASAP! You will need to commit to helping for the whole season, but the more hands on deck that I've got, the more we can do with the league - more points categories, more twists and turns, etc!
If you participated in the Blood vs Water league last season, don't fret - the final results will be posted when I manage to find the time to process the finale episode. I sincerely apologise for the delay!