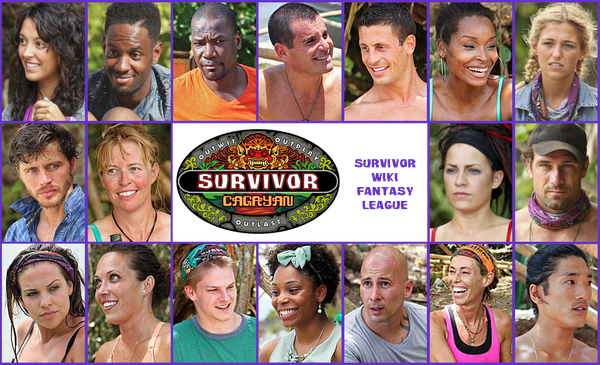 Welcome to the Survivor Fantasy League: Cagayan edition! I'm MisterDenisov (or Des, it you prefer), and whether you've got the brawn, brains or beauty, you've come to the right place for a good ol' time.
If you want to find out more about the game, follow this link.
Last Week's Standings
At the end of last week, Aukrest led the pack, and will score an extra 20 points this week. The rest of the Top 10 will also receive an extra 10 points.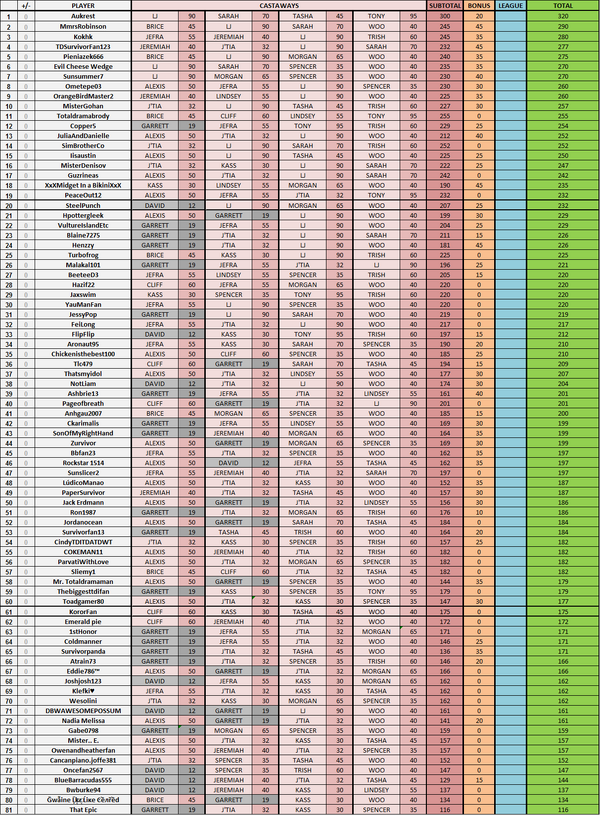 Episode Three Points
Here are the scorecards for the third episode, Cops-R-Us! If you think something has been scored incorrectly, let me know in the comments below and we'll update the scores accordingly.
Castaway Points

An Explanation of the Points:
Aparri placed first in the combined reward/immunity challenge, scoring 20 points for each tribe member.
Luzon placed second in the combined reward/immunity challenge, scoring 15 points for each tribe member.
Alexis, Jefra, Lindsey and Tony sat out a challenge, for -5 points each.
Brice were voted out, for -30 points.

Alexis, Jefra, Jeremiah and LJ scored 10 points for correctly voting for Brice. Brice and Morgan scored -10 points for voting against the majority.

Brice lost 10 points for the vote cast against him, and Alexis and Morgan both lost 4 points for the votes against them.
Tony received 10 points each for finding a clue to the Hidden Immunity Idol.
LJ received 20 points each for finding a Hidden Immunity Idol.
Sarah and Tony eached scored 30 points for saying the episode title.
Each contestant scored 5 points per confessional. Tony scored highest in this category (5 confessionals, 25 points), whilst Cliff and Lindsey scored the least (0 confessionals, 0 points).
Kass, Spencer and Tasha all mentioned Garrett after his elimination for 5 points each. Garrett also scores 15 points.
Tasha read the Tree Mail, for 5 points.

Thus, the overall Castaway Scores are...
Bonus Points
These are the answers to the Bonus Questions:
Regular Questions:
Who will win Reward? Combined
Who will win Immunity? Aparri
Which tribe will go to Tribal Council? Solana
Who will be voted out? Brice
How many votes will they receive (not including revotes)? Two
Who says the episode title? Sarah and Tony
Special Questions:
Who will have the most confessionals this episode? Tony
Will anyone find a Hidden Immunity Idol? Yes (LJ)
Who will sit out the challenge (ONE from each tribe)? Alexis or Jefra and Lindsey or Tony
Overall League Standings
Here's the part you've been waiting for...

Congratulations to Aukrest for topping the ladder again this week! You will be awarded 20 League Points next week!
Congratulations to the rest of the Top Ten - you will be awarded 10 League Points next week!

If you didn't place within the Top 10, you can see your score - and your place amongst the 81 competitors in the league by clicking the image below!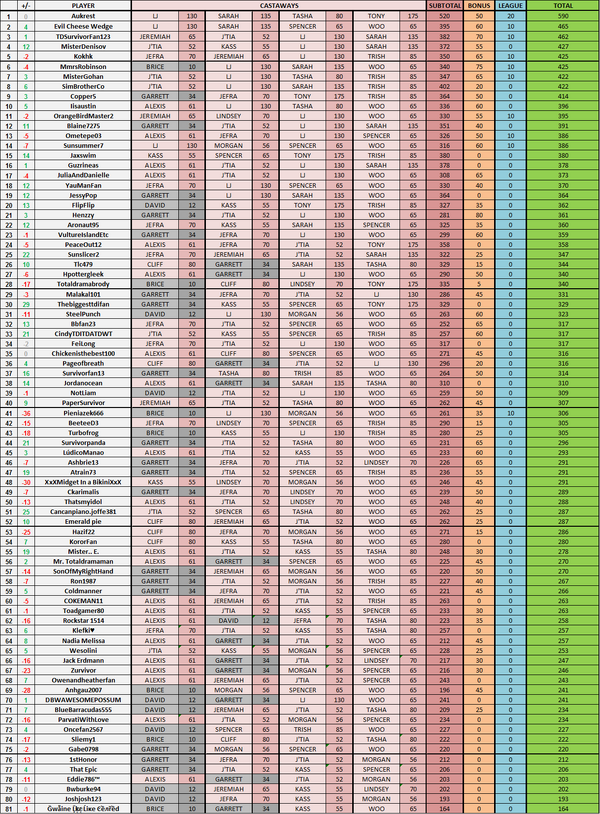 Don't forget to submit your answers to next week's Bonus Questions, and we'll see you back here next week for the next episode!