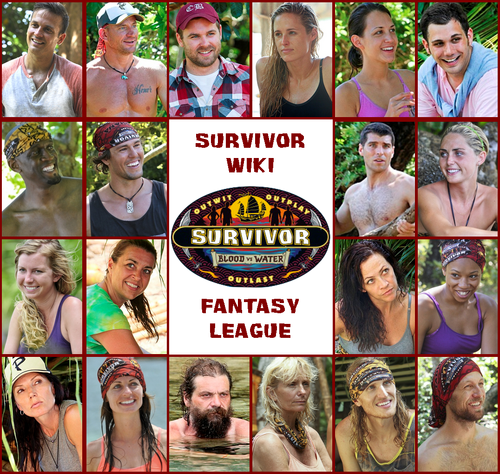 Welcome to the Survivor Fantasy League: Blood vs Water edition! I'm MisterDenisov (or Des, it you prefer), and along with Sam (aka. Cancanpiano), we're going to bring you a whole season of fun – and you don't even need to bring a family member!
If you want to find out more about the game, follow this link. Sign-ups have closed, but if you want a refresher on the rules, that's where you'll find them!
Episode One Points
Edit
Here are the scorecards for the exciting premiere, Blood Is Thicker Than Anything. If you think something has been scored incorrectly, let us know in the comments below and we'll update the scores accordingly. To preserve the sanity of both Sam and myself, we'll amend the scores the following week, so don't bug out if this page doesn't get updated!
RULES UPDATES:
In order to keep better balance, the score value of the Bonus Questions has been reduced to FIVE POINTS PER CORRECT ANSWER.
We will be giving out some extra points!

If you are at the top of the ladder in any given week, you will score an additional THIRTY POINT BONUS!
If you are the first person to have all four of your castaways eliminated from the game, you will score a BONUS FIFTY POINTS!
If you are the last person to have their entire team of four still in the game, you will score a BONUS FIFTY POINTS!
Castaway Points
Edit

An Explanation of the Points:
Galang wins the combined Reward/Immunity challenge, scoring each tribe member 25 points.
Candice and Laura B. were voted out in the First Impressions twist, and Marissa was voted out at Tribal Council, losing them -20 points each.
Anybody who voted for the person who was sent to Redemption Island(at either First Impressions or Tribal) received 10 points. Anybody who voted for somebody who wasn't sent to Redemption scored a penalty -10 points.
Each 'vote against' scored a penalty of -2 points for each vote.
Laura B. and Rupert swapped places at Redemption Island, scoring each of them 20 points.
Rupert said the episode title, Blood is Thicker Than Anything, scoring him 30 points!
Each confessional a contestant received was worth 5 points. Brad led the tally in this category with ten confessionals (for a whopping 50 points). Tyson, at the other end of the spectrum, only had one confessional (for a measly 5 points).
Brad and Tyson mention former Survivor contestants: Brad mentions John Cochran twice (for 10 points), and Tyson refers to Rob Mariano once (5 points).
Colton, John and Katie were all bleeped, scoring them each 5 points (Colton and Katie swore during the challenge, and John cussed before Tribal Council).
John, Laura B. and Rachel all read the Day Zero Tree Mail, and Colton and Rachel read the challenge Tree Mail, scoring them each 5 points (or 10 for Rachel and her exemplary reading skillz).
There looked to be a lot of crying going on at Day 1, so I didn't get the chance to examine each and every face. SO, the crying points have only been awarded to castaways who were prominently shown crying. Rupert and Laura B. both cried when they swapped places at Redemption Island (5 points each). Colton cried twice (at camp and at the challenge, for 10 points). But it was Captain America himself who was the real softie, crying three times for 15 points (after deciding not to swap at Redemption, in a confessional and again at Tribal - somebody get that guy a Kleenex!).
Pop Culture time! Hayden (as expected) mentions Big Brother and Ciera compares her teen pregnancy to 16 and Pregnant (5 points each). But it is Aras who takes the cake with both a sports reference to the Redskins when voting for Gervase and a comic book reference when he later calls Gervase "Aquaman" (scoring him 10 points).
Bonus Points
Edit
These are the answers to the Episode One Bonus Questions:
Regular Questions:
Who will win Reward? None (combined with Immunity)
Who will win Immunity? Galang
Who will win the Duel (first place)?  None
Who will be eliminated in the Duel? None
Who will be voted out? Marissa
How many votes will they receive (not including revotes)? Eight
Will there be a revote? No
Who says the episode title? Rupert
Special Questions:
Who will be voted out by Galang in the First Impressions twist? Candice
Who will be voted out by Tadhana in the First Impressions twist? Laura B.
Who will get the first confessional? Gervase
Who will carry the tribe flag to the Immunity challenge for Galang? Tyson
Who will carry the tribe flag to the Immunity challenge for Tadhana? John
How many people will say they are surprised/shocked/etc that they are separated from their Loved One? Zero (yes, NOBODY said they were surprised by the twist!)
League Standings
Edit
Here's the part you've been waiting for...
Congratulations to Zurvivor for topping the ladder this week - you will be rewarded with a bonus next week! If you didn't place within the Top 15, you can see your score - and your place amongst the 63 competitors in the league by clicking the image below!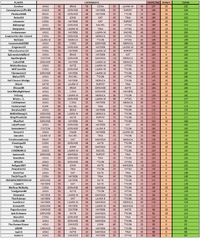 Stay tuned for the Bonus Questions for Episode Two, and we'll see you back here next week for Rule in Chaos!