Comment

1
Could this be another blindside season?
So, last season, Survivor: Cagayan, was full of blindsides. Almost every elimination was a blindside:
David, Garrett, Cliff, Alexis, Sarah, LJ, Jefra, Trish, Kass
9/18 of the eliminations were blindsides......could it be for this season?
Survivor: San Juan del Sur already has a lot of blindsides, especially the ones in the merge. Those blindsides are fun!
What are your opinions are this? Do you think this could be another big blindside season? LEAVE YOUR OPINIONS IN THE COMMENTS! :D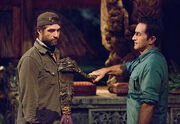 Ad blocker interference detected!
Wikia is a free-to-use site that makes money from advertising. We have a modified experience for viewers using ad blockers

Wikia is not accessible if you've made further modifications. Remove the custom ad blocker rule(s) and the page will load as expected.