I have been Given a Ton of Requests for Custom Logos, and over Half of them are done. However, only 4 of the will be Posted until Next Monday.
For anyone who wants the Link to the next 4 Logos, here it is: http://survivor.wikia.com/wiki/User_blog:GabrielJohn/Custom_Logo_Set_3
Here is "Survivor: France", "Survivor: Greece", "Survivor: Hawaii", and "Survivor: India."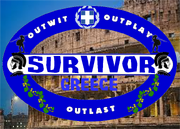 Ad blocker interference detected!
Wikia is a free-to-use site that makes money from advertising. We have a modified experience for viewers using ad blockers

Wikia is not accessible if you've made further modifications. Remove the custom ad blocker rule(s) and the page will load as expected.