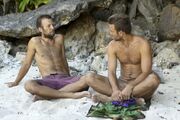 I Keep having this recurring dream that there is a lot of people at a duel, similar to an immunity challenge, and its always down to Vytas versus Aras, and Vytas always narrowly beats his little brother. It's strange. It's the second time it happened. The first one Vytas helped Aras get ahead of Laura B. cuz he had nothing on his puzzle, but then he beat both of them. This last one it was pretty much Vytas versus Aras. I had also had a dream where Gervase beat Brad and it was the ski ball challenge from Ep 2. Weird RI dreams, but entertaining none the less. Is this an omen? Will Vytas defeat Aras at Redemption Island? This is no spoilers I promise, but its weird.
Ad blocker interference detected!
Wikia is a free-to-use site that makes money from advertising. We have a modified experience for viewers using ad blockers

Wikia is not accessible if you've made further modifications. Remove the custom ad blocker rule(s) and the page will load as expected.