With Survivor: Caramoan just around the corner, I've decided to vent my feelings about the returning players and the new "fans", but not before stating my final thoughts about Survivor: Philippines. Plus, I join the Survivor Wiki craze and reveal who I would cast in another Heroes vs. Villains season.
Philippines Review
I thought this was a truly fantastic season. The three tribes twist was very interesting and watching Matsing dwindle while Tandang would later self-destruct after the merge was fun to watch. And although I wasn't happy that there would be yet another season with returning players, the fact that all three of these were medically evacuated from the game somehow made it okay. Here's what I have to say about them:
Russell - I had high hopes for this guy. He was one of my favorites in Samoa and after he was medically evacuated from the game, I'd always hoped that he would come back. However, his game this time was less than par as I actually started to root against him as Matsing went down to four members.
Jonathan - I despised him after watching Cook Islands, so I wasn't excited to see him come back. But my opinion towards him quickly changed. From playing his idol at the right time to winning the next immunity challenge, he managed to win me over. However refusing to make a final 3/4 deal with Lisa and Skupin was a dumb move and cost him the game.
Skupin - When you'd think of medically evacuated contestants, Skupin would be the first one to come to mind. His falling in the fire incident is one of Survivor's most memorable moments and I was happy to see him come back. He (and Lisa) were behind most of the eliminations that occurred post-merge which I thought was very impressive. However, he did get cocky towards the end which kind of irked me.
Aside from that, Philippines created many memorable moments such as:
Matsing being decimated
Pete planting the idol clue in R.C.'s bag
R.C. vs. Abi-Maria
Angie's cookie comment
The Matsing duo being separated
Dawson's farewell kiss
Denise winning her first immunity
Dead Man Walking's tribal council
Skupin flipping on Tangang
Lisa's AHA moment
The Axis of Evil's downfall
Skupins numerous injuries
Denise going to every tribal council
And finally...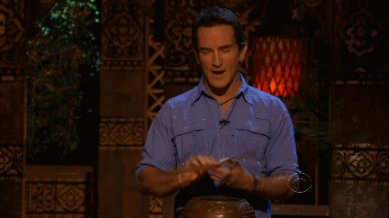 But yeah, Survivor: Philippines was really fun to watch and I'd rank it as one of my top three favorite seasons. This season also produced many memorable characters such as Malcolm, Denise, Lisa, Abi-Maria, Pete, Jeff and even the pre-merge boots Dawson and Angie.
Caramoan Preview
Now that Survivor: Philippines is over, time to move onto Caramoan - Fans vs. Favorites. I have mixed feelings about the 10 favorites, but I guess I'll go from who I'm happy to see back to who I'm the least happiest to see:
Corinne Kaplan - I absolutely loved Corinne in Gabon! Her b*tchyness was hilarious and I loved every moment of her and her alliance. Had Susie not flipped, she could have easily make it to the top three. Anyway, I'm looking forward to seeing her compete again and hopefully she'll do well
Brenda Lowe - I happy that they decided to bring her back. She's athletic, strategic, and not that bad to look at. I feel like she was running the game in her season, but unfortunately people saw that and targeted her immediately. I see this as her second chance to redeem herself.
Andrea Boehlke - She was one of my top three favorites in that horrible season known as Redemption Island. Out of the Ometepe girls, I felt like she was the most level-headed and strategic. When Matt came back from Red. Is., I was hoping that she would flip over to Zapatera, but unfortunately that didn't happen and when there were only Ometepes left, she was the first to go. But when she managed to beat out the guys at the duel, I was rooting for her to take out Rob. However, she was playing with a bunch of idiots. Hopefully this season will be different (in a good way) for her.
Malcolm - Love it that he's back already! He was one of my favorites from Survivor: Philippines and I want him to go far in this season as well. Hopefully, the fact that no one saw him play in his original season doesn't make him a primary target.
Dawn - Out of everyone on the Savaii tribe, she was my favorite. Unlike everyone else on that tribe, she wasn't rude to Cochran and unfortunately fell victim to his move. Had her tribe not been pagonged, she should have made it further than what she did and would have won the game.
Cochran - Unlike everyone else, I don't despise Cochran. I would have done the same thing in his position, especially if it meant ruining Ozzy's chance of winning. I feel like it can relate to his awkwardness and I hope he does well this season.
Now this is where I start to cringe
Erik - I never really watched Micronesia (just watched the first half), but what I can tell, Erik was a star-stuck super fan who did whatever Ozzy told him to. I mean it's kind of cool watching a fan become a favorite, but I'm so-so with Erik. If he maybe cut his hair, then we'd talk.
Francesca - I'm kind of disappointed that they chose to bring her back. It's not that I hated her, I actually liked her in Redemption Island, but you can't call a first boot a "favorite". She may have been a good pick for a Second Chances season, but not a Fans vs. Favorites. There were many other good picks who could have taken her spot. And also, the fact that they brought her just because of Philip further infuriates me.
Philip - He's one of my least favorite contestants ever, maybe not Top 5, but Top 10 for sure. Watching him rant about all that racial stuff was really uncomfortable to watch on tv and I would prefer not to go through it again. I hope that he learned from last time and actually tries to play a decent game.
Brandon - He should not be in this season at all. There's already a guy who gave away his immunity necklace and got voted out immediately after and there's enough South Pacific people already. I'm basically tired of watching Hantz after Hantz after Hantz on tv and hope that CBS would just understand that we are tired of it. I hope he's the first to go.
And with that, we move over to our fans. There's not much I have to say about them other than I feel like they will be obliterated by the favorites. But I'll say that Reynold looks to be the most promising, so hopefully he does good.
Also, Sherri reminds me of Denise and the racecar driver girl remind me of Sophie. So yeah :P
Heroes vs. Villains 2
I chose contestants only from Season 11 (Guatemala) onwards.
Other considerations included: Rafe (Guatemala), Cao Boi (Cook Islands), Yau-Man (Fiji), Marcus (Gabon), Brett (Samoa), Christine (South Pacific), Christina (One World), Denise (Philippines) and Lisa (Philippines) for the Heroes and Tyson (Tocantins), Brenda (Nicaragua), David (Redemption Island) and Jim (South Pacific) for the Villains
Richard Hatch was originally going to be placed on the Villains, but was ultimately cut as I thought he would be more appropriately placed on a Super All-Stars or All-Winners season.
If you have any questions about why I made this person a hero/villain or why I picked this person at all, feel free to leave a comment :] Just don't be mean :'o