Comments

8
Cambodia Fantasy: Episode 9 Results

Welcome to the Cambodia edition of the Survivor Fantasy League! Whether this be your second chance to win it all or it's your first time playing and want to be part of something fun, you've come to the right place!
If you want to find out more about the game, follow this link.
Episode 9 Points
Here are the scorecards for the ninth episode, Witches Coven! If you think something has been scored incorrectly, let me know in the comments below and I'll update the scores accordingly.
Castaway Points
Cambodia Fantasy League

90

90

50

45

44

36

30

25

20

10

5

0

0

0

0

0

0

0

0

-47

Explanation of the points:
Ciera, Joe, Spencer, Stephen & Tasha win the Reward Challenge (20 points each)
Joe wins Individual Immunity (30 points)
Abi-Maria sat out of the challenge (-5 points)
Spencer and Tasha competed in a challenge they previously competed in, twice (10 points each)
Kelly was voted out (-30 points)
Abi-Maria, Ciera, Jeremy, Kelley, Spencer & Stephen voted "right" (10 points each)
Joe, Keith, Kelly, Kimmi & Tasha voted "wrong" (-10 points each)
Kelly received 6 votes (-12 points)
Ciera received 3 votes (-6 points)
Kelley received 2 votes (-4 points)
Keith, Kelley & Tasha's voting confessionals are shown (5 points each)
Jeremy finds Hidden Immunity Idol clue (10 points)
Jeremy finds Hidden Immunity Idol (20 points)
Stephen receives an advantage (20 points)
Kimmi named the episode (30 points)
Ciera, Jeremy, Keith & Kelley mention Andrew while Ciera also mentions Kass (5 points for each mention)

Andrew receives points (20 points)
Kass receives points (5 points)

Jeremy mentioned Val while Stephen mentioned Dan (10 points each)
Stephen makes a pop culture reference; MacBeth (5 points)
Jeremy and Stephen had the most confessionals with 7 while Keith had the least confessionals with no confessionals shown. Everyone else was somewhere in between (5 points per confessional)
Thus, the overall Castaway Scores are
Cambodia Fantasy League

370

353

345

341

335

324

306

267

265

235

228

203

112

90

59

50

39

30

23

12
Bonus Points
These are the answers to the Bonus Questions:
Regular Questions:
Who will win Reward? Ciera, Joe, Spencer, Stephen, Tasha
Who will win Immunity? Joe
Who will be voted out? Kelly
How many votes will they receive (not including revotes)? 6
Who says the episode title? Kimmi
Special Questions:
Who will jump off for the advantage? Spencer & Stephen
Will a Hidden Immunity Idol be found? Yes
Will Ciera roll her eyes at Tribal Council? No
Note: I did not make it too clear that I wanted the name of only ONE player for the Who will win Reward? and Who will jump off for the advantage? questions, so free points were awarded for both questions regardless of what answers were given. But from now onwards, please only give the name of ONE person unless otherwise stated. No more free points will be given if this problem continues to occur.
Overall League Standings
And this is what you've all been waiting for!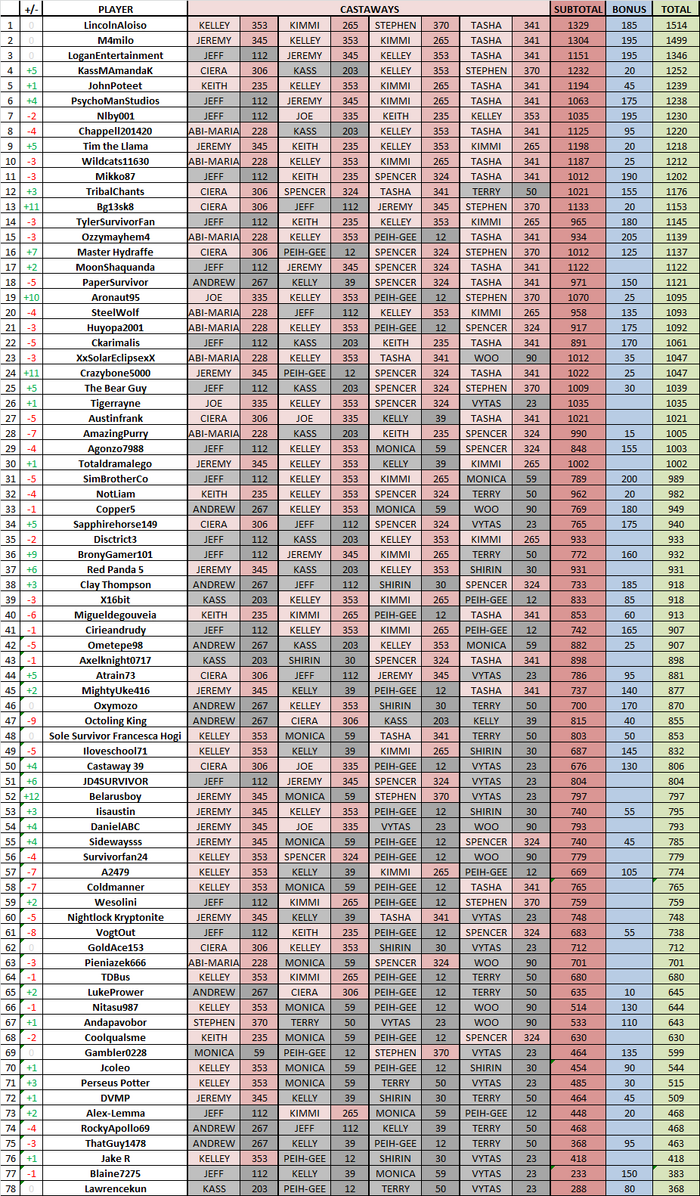 Congrats to those to climbed up the ranks! And for those who fell down a bit, you still have all season to catch up!
Don't forget to answer next episode's Bonus Questions!
Ad blocker interference detected!
Wikia is a free-to-use site that makes money from advertising. We have a modified experience for viewers using ad blockers

Wikia is not accessible if you've made further modifications. Remove the custom ad blocker rule(s) and the page will load as expected.