Welcome to the Cambodia edition of the Survivor Fantasy League! Whether this be your second chance to win it all or it's your first time playing and want to be part of something fun, you've come to the right place!
If you want to find out more about the game, follow this link.
Episode 8 Points
Here are the scorecards for the eight episode, You Call, We'll Haul! If you think something has been scored incorrectly, let me know in the comments below and I'll update the scores accordingly.
Castaway Points
Cambodia Fantasy League

65

60

52

50

35

30

20

10

5

0

0

0

0

0

0

0

0

0

-10

-41

Explanation of the points:
Ciera, Joe, Keith, Kelley, Kelly & Kimmi win the Reward Challenge (20 points each)
Joe wins Individual Immunity (30 points)
Keith & Jeremy competed in a challenge they previously competed in (5 points each)
Andrew was voted out (-30 points)
Abi-Maria, Ciera & Kelley voted "right" (10 points each)
Andrew, Jeremy, Joe, Keith, Kelly, Kimmi, Tasha, Spencer & Stephen voted "wrong" (-10 points each)
Kelley received 9 votes (-18 points)
Andrew received 3 votes (-6 points)
Kelley plays the Hidden Immunity Idol correctly (25 points)
Andrew gets idol'd out of the game (-15 points)
Spencer's voting confessional is shown (5 points)
Kimmi beat her original placement (15 points)
Keith named the episode (30 points)
Kelly mentioned Gervase while Stephen mentioned JT (10 points each)
Stephen makes a pop culture reference; Moby Dick (5 points)
Keith creates hashtag (5 points)
Stephen had the most confessionals shown with 6 while Abi-Maria, Kelly & Tasha had the least with no confessionals shown. Everyone else was somewhere in between (5 points per confessional)
Thus, the overall Castaway Scores are
Cambodia Fantasy League

317

311

285

280

279

262

255

247

240

235

218

198

112

90

86

59

50

30

23

12
Bonus Points
These are the answers to the Bonus Questions:
Regular Questions:
Who will win Reward? Ciera, Joe, Keith, Kelley, Kelly & Kimmi
Who will win Immunity? Joe
Who will be voted out? Andrew
How many votes will they receive (not including revotes)? 3
Who says the episode title? Keith
Special Questions:
Will the hashtag "#Blindside" be used this episode? No
How many people will not speak at Tribal Council? 5
Will an orignal Ta Keo member receive a vote at Tribal Council? Yes
Overall League Standings
And this is what you've all been waiting for!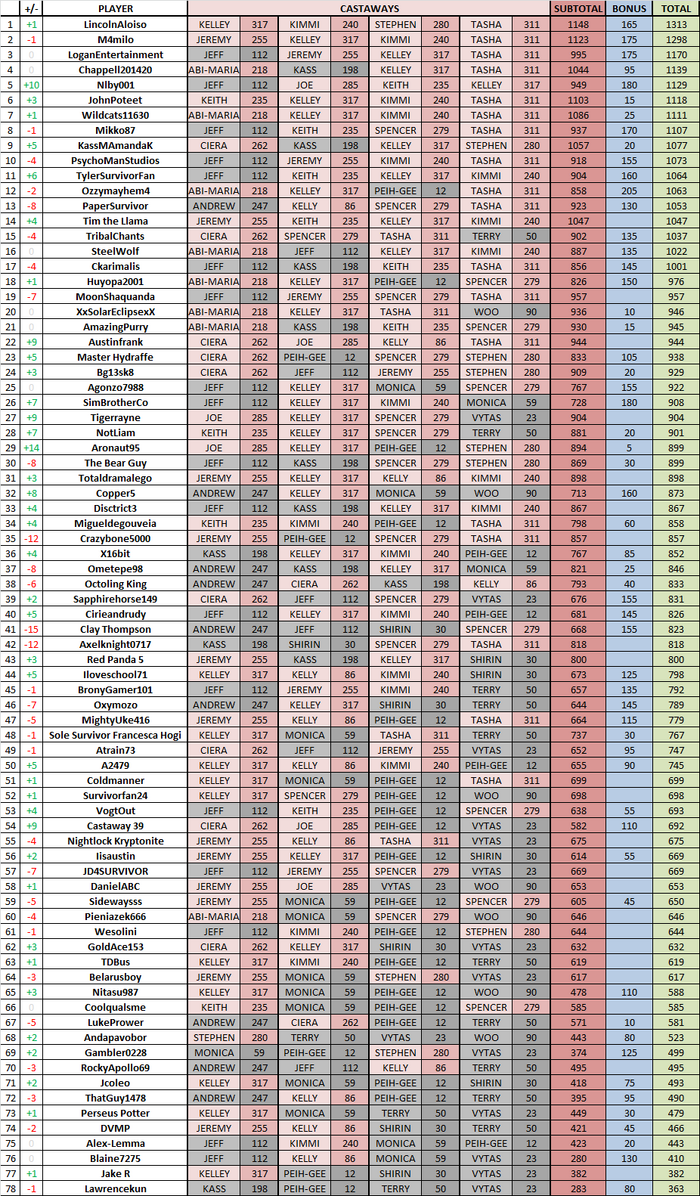 Congrats to those to climbed up the ranks! And for those who fell down a bit, you still have all season to catch up!
Don't forget to answer next episode's Bonus Questions!