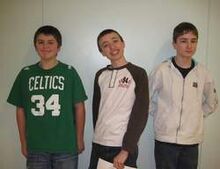 SonOfMyRightHand (better known as Ian Poyant) was born on June 14, 1999 in Sanford, Maine. In 2009, I saw bits and pieces of Survivor: Tocantins and Survivor: Samoa (okay, I only saw a bit of the premiere of Tocantins), but I didn't see a full season until Survivor: Heroes vs. Villains. Since then, I have watched every season. I have even watched a few on YouTube, as well as challenges from different seasons. The Survivor: Borneo episode Quest for Food was aired on my 1st birthday. I share a birthday with John Carroll. In addition, my user name came from something said about Coach's first name, Benjamin. My avatar is the logo for the game show I was on earlier this year.
My Least Favorite Survivor Castaway(s)
(*)This denotes that I disliked the contestant in their original season only.
My favorite Survivor castaway(s)
Survivors Who I'm Following on Twitter
Survivors Who Are Following Me on Twitter
Survivors Who I'm Following on Instagram
Survivors Who Are Following Me on Instagram
Survivors That I'm Facebook Friends With
Survivors Who I'm Following on Vine
Survivor ORGs and Placement-ORG Wiki-Season-Placement-Votes Against-Starting and Ending Dates-Tribe(s)-Color(s)
Bold denotes merged tribe
Eden's ORG Wiki-Survivor: Bali-18th out of 18-7 votes-July 7-July 11, 2014-Barong-orange
Koror Survivor ORG Wiki-Survivor: Vietnam-9th out of 16-4 votes-July 24-August 23, 2014-1st Jury member-Hanoi, Yen Bai-red, black
703 ORG Network Wiki-Survivor: Wales-16th out of 18-4 votes-August 31-September 12, 2014-Dyfrgi-green
Survivor Games Wiki-Survivor: Finland-15th out of 16-4 votes-October 4-October 9, 2014-Porot-purple
The Robinson Expedition Wiki-Survivor: Fiji-3rd out of 12-6 votes-October 25-November 28, 2014-7th Jury member-Wai, Kiwa-turquoise, pink
Ugnius Slekys' Survivor Series Wiki-Survivor: Gobi Desert-2nd out of 16-1 vote-October 28, 2014 – January 6, 2015-received 3 jury votes-Sayan, Metanuki-orange, black
Dr. Panda Gaming Wiki-Survivor: Sri Lanka- out of 19- votes-November 1, 2014--Villu-blue
Second go-round of Sri Lanka- out of 17-2 votes-December 28, 2014--Matale, Ankuri-orange, maroon
The Jovial Alpaca ORG Wiki-Survivor: Yucatan- out of 18-1 votes-November 6, 2014--Izamal, Motul, Quetzacoatl-green, red, black
Survivor Malakal Wiki-Survivor: Persia-1st out of 16-0 votes-November 10, 2014 – January 9, 2015-received 4 jury votes-Peri, El Chavo-blue, red
Survivor ORG Wiki-Survivor: Greece-17th out of 18-7 votes-November 16-November 24, 2014-Attica-yellow
Yonas' ORG-Survivor: Greek Isles- out of 20- votes-November 20, 2014--Athena-gold
Solar Panel ORG Wiki-Survivor: Nicoya-7th out of 16-4 votes-November 26, 2014 – January 6, 2015-3rd jury member-Esperanza, El Lagarto-red, blue
Poodle Island ORG-Survivor: Romania-18th out of 20-6 votes-November 30-December 10, 2014-Bucharest-blue
Survivor: The Online Reality Gaming Experience Wiki-Survivor: The Bahamas-5th out of 16-4 votes-December 6, 2014 – January 22, 2015-5th jury member-Valiente, Victoria-black, gold
Lagrossa ORG-Survivor: Hong Kong-8th out of 19-9 votes-December 16, 2014 – January 11, 2015--February 1-February 7, 2015-6th jury member-Ming, Qing, MingMing-gold, silver, purple
Nicholas Naley's ORG-Survivor: Sweden-15th out of 16-5 votes-December 16-December 22, 2014-Unga-yellow
Vaporterra ORG-Survivor: Hoenn-16th out of 18-4 votes-January 5-January 15, 2015-Omega-red
Pieniazek666 Survivor ORG Wiki-Survivor: Jamaica- out of 17-3 votes-January 20, 2015--Santiago, Xaymaca, Rios-blue, brown, pink
Evette's Facebook ORG-Survivor: Cagayan-1st out of 18-0 votes-January 25-March 11, 2015-received 4 jury votes-Luzon (Brains), Solarrion-green, black
Koror Survivor ORG Wiki-Survivor: Heroes vs. Villains- out of 22-4 votes-February 3, 2015--Heroes-white
Library ORG Wiki-Survivor: Hogwarts-19th out of 20-3 votes-February 21-March 5, 2015-Gryffindor-red
Poodle Island ORG-Survivor: Mali-Revival- out of 20- votes-March 2, 2015--Gao-green
Clemenshaw ORG-Survivor: Pitcairn Islands-Heroes vs. Villains vs. Neutrals- out of 18- votes-March 20, 2015--Ducie (Heroes)-green
The Amazing Race ORGs and Placement-ORG Wiki-Season-Placement-Starting and Ending Dates-Team Name-Teammate-Color(s)
703 ORG Network Wiki-TAR Season 1-10th out of 11-December 20-December 22, 2014-Team Persia Smash Bros.-Cameron Hughes-lavender
The Robinson Expedition Wiki-TAR Season 4-11th out of 11-February 7-February 7, 2015-Team Sky Diamonds-Adin Shepherd-blood red and yellow
My favorite Season(s)
Former Avatars