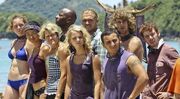 Hey, it's Beemerboyz803 but feel free to call me Beemer! So, I've been doing a poll to see the show's standouts. Here are the current results:
CURRENT LEADERS 
Remember, there is still three more weeks to vote before winners are announced. If you have nominations or category suggestions, please comment them on the blog post or on my message wall! Thank you so much for voting!
Fabio Birza (Nicaragua) - 6 votes for Island Clown
Eddie Fox (Caramoan) - 5 votes for Most Athletic
Rob Cesternino (Amazon) and Cirie Fields (Exile) - Both tied with three votes for All-Around Awesome
Parvati Shallow (Cook Islands) - 5 votes for Sneakiest on the Island
John Cochran (South Pacific) - 6 votes for Biggest Underdog
Amanda Kimmel and Parvati Shallow (China and Cook Islands) - 6 votes for Best Friends
Erik Reichenbach (Micronesia) - 6 votes for Best Blindside Victim
Malcolm Freberg (Philippines) - 5 votes for Fan Favorite
Phillip "The Specialist" Sheppard - 5 votes for Most Unique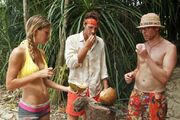 My favorite Survivor castaways
Parvati Shallow - She's smart, intelligent, sneaky, manipulative, and she won a million bucks!
J.T. Thomas - He's a very nice and sneaky player. Plus, Parvati pulled an amazing blindside on him (kudos to Parv in Heroes vs. Villains)
Amanda Kimmel - Even though she poorly answered the jury's questions......twice, she still is a fan favorite to many including me. She also played an awesome blindside in Micronesia! (no offense Alexis). 
My favorite Seasons
Micronesia - I'm glad Survivor took its players to Blindside Country. This season had nonstop outrageous eliminations, a very sneaky alliance, and some of the most recognizable blindsides (no offense, Erik/Alexis/Mary/Joel/Jason/Ozzy).
China - Wow. First to say, we met two awesome allstars this season (one who got voted out with not one... but TWO idols in his pocket, and the other Amanda). This season had pretty decent players and stood out, also in the theme song it shows.
Heroes vs. Villains - This season was just amazing! This was Micronesia 2.0, with an AMAZING blindside by Parvati. I also enjoyed seeing Sandra burn Russell's hat and how she was always failing in challenges, yet she won the season. My fav parts of Heroes vs. Villains were the Banana Etiquette, Parvati's blindside, the House of Cards challenge, and of course, every all-star, whether hero or villain, that came back.