Ulong is a tribe from Survivor: Palau.
This group of nine is notoriously considered to be one of the worst tribes in Survivor history after failing to secure any Tribal Immunity victories, thus the term Ulonging was coined. Their tribe color is blue.
At the tribe picking activity on Day 2, These are the following members of the Ulong tribe, arranged from the person who picked first, until the last person picked to join the tribe:
Jolanda chose Bobby Jon;
Bobby Jon chose Stephenie;.
Stephenie chose Jeff;
Jeff chose Kim;
Kim chose James;
James chose Ashlee;
Ashlee chose Ibrehem;
Ibrehem chose Angie;
Jonathan wasn't picked, eliminating him from the game along with Wanda Shirk.
Tribe History
Edit
In This Has Never Happened Before! (Episode 1), Ulong started the game with what seemed like an unfair advantage: of the nine members of the tribe, only two were over thirty (by comparison, only three of Koror's nine members were in their twenties). The competition, with its harsh conditions and unusually physical challenges, seemed stacked in favor of a younger, more physically fit tribe. However, it was not a lack of physical prowess, but of teamwork, which was what caused Ulong's undoing at the first Immunity Challenge.
When tasked with having to choose which of several heavily weighted crates bearing survival tools to carry to the end, Ulong waffled on the decision and took a long time to decide. The poor challenge performance was compounded by the fact that no one in the tribe seemed to be able to operate an outrigger canoe properly, with their boat completely going off-course. Koror would win the first immunity challenge, and Ulong vowed not to repeat the debacle.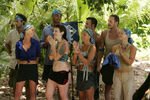 Many felt that blame for the defeat should fall on the shoulders of Jolanda Jones, the de facto leader of the tribe and one who advocated carrying as many of the crates as possible. However, Jolanda and her allies felt that her physical prowess would be an asset later in the game, and that the tribe should attempt to cut its apparent dead weight: Angie Jakusz, who had been chosen last for the tribe and whom Jolanda felt had not yet proven herself physically. In the end, Jolanda was voted out in a 6-3 decision. Ulong's willingness to sacrifice its leader and inability to lead through consensus would become a trademark of the tribe's tenure as a Survivor tribe.
In Love Is in the Air, Rats Are Everywhere (Episode 2), conscious of being a social outcast as well as the need to prove herself in challenges, Angie began what would become a series of impressive physical performances, earning the respect of her tribemates. One such performance came at the first reward challenge, in which Ulong destroyed Koror, winning themselves a Hawaiian sling and other miscellaneous fishing gear.
Ulong was unable to organize themselves at the next challenge, however, and suffered another defeat at the hands of the older Koror. Sentiment had seemingly turned against Kim Mullen, whom many felt had delivered a poor performance at the challenge. However, Kim and Jeff Wilson had struck a romantic bond, and Jeff was thus very inclined to lobby on her behalf. The tribe would instead vote out Ashlee Ashby, who was both ill and ill-equipped for the game.
Episode 3-5
Edit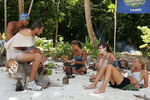 In Dangerous Creatures and Horrible Setbacks (Episode 3), after winning a sewing kit at the next Reward Challenge, Ulong hoped to propel itself to victory at the Immunity Challenge. The extremely physical challenge, in which contestants carried sandbags around a circular course in shallow water, seemed tailor-made for Ulong's younger, stronger group of castaways. However, misfortune struck Ulong as personal trainer Jeff injured his ankle on a stray coconut back at camp before the challenge. With one of their chief physical resources incapacitated, Ulong was a weakened tribe. The strain on Ulong's final three members—prophetically, Stephenie LaGrossa, Bobby Jon Drinkard, and Ibrehem Rahman were the last ones standing—proved too much to bear. Koror won its third consecutive immunity.
The tribe was torn between disposing of Kim, who was viewed with increasing animosity due to her perceived lack of effort and work ethic, and Jeff, who had verbally asked to be voted out of the game. In the end, the tribe honored Jeff's request and he was shown the door in a 4-2-1 vote.
In Sumo at Sea (Episode 4), for the next Reward Challenge, Ulong was asked to select a leader in order to create a bathroom at their camp. After each member of the tribe balked at the responsibility, they all opted to go out fishing instead. When Jeff Probst arrived and the tribe still hadn't decided on a leader, the host chastised them for their indecision. The tribe ended up choosing James Miller (a steelworker by profession, thus making him the most equipped for the role) as its leader. Despite his decent efforts to do the task, Ulong suffered another defeat. Ulong's losing streak continued at the next Immunity Challenge, where the men put on a particularly weak showing. In spite of her attempts to rally the women against the men, Kim was voted out unanimously at the next Tribal Council.
In The Best and Worst Reward Ever (Episode 5), on day twelve, the two tribes were surprised by a double boot with a twist. Both tribes would compete in a reward challenge; the winning tribe would be given a reward of root beer and beef stew, as well as the right to sit in on the opposing tribe's Tribal Council. True to form, Ulong went on to lose the challenge. This time, the tribe felt Ibrehem was to blame, as his lack of swimming and diving prowess had wasted time and cost the team dearly. However, at Tribal Council, Jeff Probst surprised the castaways by announcing that Koror would be allowed to vote to give one member of Ulong immunity. Thanks to votes from Katie Gallagher, Jenn Lyon, and Janu Tornell, Ibrehem was given immunity. With their original target protected and no opportunity to decide on a replacement, Ulong's votes were confused and scattered, resulting in a tie between Angie and Bobby Jon. In the end, Angie was forced to leave the game after a re-vote.
Episodes 6-9, Continuing their losing ways
Edit
Ulong was able to make a brief comeback when they won the next Reward Challenge and were taken on a trip to the nearby Jellyfish Lake. However, this would be the last challenge that Ulong would ever win, and a lackluster showing by James and Ibrehem at the next Immunity Challenge only accelerated their fate. Sent to Tribal Council for the sixth consecutive time, Stephenie forced a tie between James and Ibrehem. Ibrehem was targeted by James since he was meant to be voted off the previous tribal council if Koror didn't give him immunity, while Ibrehem did not appreciate how critical James was towards him in his performance in the challenge when James wasn't proving himself either. Anticipating that Bobby Jon would not waiver in his decision to vote off James, she later changed her vote to remedy the tie, and James was sent home.

On day seventeen, the tribes were tasked to build S.O.S. signals in order to win a reward. Ulong—now dwindled to a paltry three members—chose to dismantle its old shelter to write their tribe name at the sand. It wasn't enough, and Ulong was once again on the losing side of island life. After losing the next puzzle challenge due to their inability to choose an effective leader, tribe politics became heated. Bobby Jon and Stephenie had formed an alliance, but Bobby Jon began to waver due to his friendship with Ibrehem. Sensing things weren't going her way, Stephenie plotted a potential counter-alliance with Ibrehem to vote out Bobby Jon. However, it ended up being much ado about nothing, and Ibrehem was voted out 2-1 on night eighteen.
Ulong was now only two strong and consisted of Stephenie, known for her spirit and tenacity, and Bobby Jon, celebrated for his strong work ethic. At this point, both castaways became increasingly frustrated: Bobby Jon by repeatedly losing to Koror's Tom Westman, and Stephenie by losing in general. The fledgling pair would lose both the Reward Challenge and the Immunity Challenge. As the first ever tribe of two to attend Tribal Council, no vote would be cast at the said event. The next eliminee would be determined by a fire-making Immunity Challenge. Despite Bobby Jon's status as the camp's fire-builder, Stephenie narrowly won the challenge, and Bobby Jon was eliminated from the game. In a departure from his usual style, Jeff Probst noted that night that the tribe "definitely did not speak" that night.
Left to fend for herself back at camp, Stephenie found even the most basic facets of camp life extremely difficult. Her suffering would come to an end the the next day, when Tree Mail informed her that Ulong had officially been conquered, and she would now become a member of the Koror tribe. Once Stephenie reached the rival tribe's camp, the individual portion of the game officially commenced.
Stephenie and Bobby Jon ended up being the two returnees for Survivor: Guatamala.
In the opening credits of the show, Jonathan Libby is included as a member of Ulong. This is most likely because if the pick'em continued, Ulong's final choice would have been Jonathan, the final male.
Ulong's seeming misnomer is easily explained. When the tribes were named, both tribes lived on the island Mecherchar. The winners of the immunity challenge, Koror, were given the opportunity to inhabit the island Ulong. The Koror tribe chose to do so, and so became the inhabitants of Ulong, while the Ulong tribe remained on Mecherchar.
Ulong's former campsite was reused for the Malakal tribe camp in Survivor: Micronesia, which was also shot in Palau. Coincidentally, after the Tribal Swap in Micronesia, the new Malakal tribe never won an immunity challenge, only managing to keep up in numbers because of Airai's misfortunes.
Ulong is the first starting tribe to go down to two players before the merge, later followed by Matsing in Survivor: Philippines.

Coincidentally, both were blue tribes and their highest ranking member was female.

Ulong became the first tribe to enter the individual phase of the game with the fewest possible representatives, with only 1 member.
Ulong is the eighth tribe to have its highest and lowest placing members be women.
Ulong is the second tribe to be absorbed, following the Saboga tribe of Survivor: All-Stars. It was later followed by Matsing, 15 seasons after in Survivor: Philippines.
Despite being considered the worst tribe in Survivor history, Ulong had the same number of challenge wins (3) as Maraamu, and more wins than Ravu (1), Foa Foa (2), and Matsing (0).

However, Maraamu, Ravu, Foa Foa, and Matsing all produced the winner of the season.

Ulong is the sixth blue tribe.
Ulong has been ranked as the most dysfunctional tribe in Survivor history by Survivor Oz .
Ulong is the only 9 person tribe to eventually be dissolved.
References
Edit
Want to play Survivor yourself?

Join our version, Survivor: Wikia - Peru!