This Is My Time is the season finale of Survivor: San Juan del Sur.
Story
"

35 Days ago, nine pairs of Loved Ones were dropped in the jungles of Nicaragua to begin the adventure of a lifetime together. But they were quickly pulled apart and in a new twist, Loved Ones were forced to battle against each other for Reward with the loser heading to Exile Island. At Coyopa, while the majority of the tribe was getting to know each other, former professional baseball player, John Rocker, was hiding from his past. The one thing Coyopa had in common, they couldn't win a challenge. And when they thought it couldn't get any worse, they hit rock bottom. For Hunahpu, winning was the only thing they could do right. They wasted their food, they lost their flint, and eventually lost their entire camp. For this season's castaways, the only thing more difficult than surviving was playing against their Loved Ones. One by one, Loved Ones were ripped from the game. But when the tribes merged, multiple couples had survived. None were more powerful than All-American couple Jon and Jaclyn. They led the charge in taking out the game's biggest threats. In a very unpredictable season Idols destroyed plans, big moves flipped the game. There were bad breaks, big fights and some very odd moments. After 35 Days, six players remained and at the last Tribal Council it appeared Keith was on the bottom with the power couple sitting pretty. But in the game of Survivor, when you get comfortable, you get blindsided. Jon was voted out with an Idol in his pocket and Jaclyn was left all alone. Five are left. Missy and Baylor: they're the only pair of Loved Ones remaining. No strangers to adversity, they stuck together through Missy's multiple divorces and are 4 Days from achieving their goal of making it to the end together. Natalie: after her sister, Nadiya, was the first person voted out she had only herself to rely on. It gave her the courage to make big moves and with an Idol in her pocket, she's not done yet. Jaclyn: she and her boyfriend, Jon, dominated the game but after Jon's blindside, she's left alone to fend for herself. Keith: this 53 year-old firemen came into the game as an underdog but after 35 Days, he's outlasted his son, won multiple Immunity Challenges, and is determined to beat the odds. It all concludes tonight. Who will win the million dollar price and the title of Sole Survivor?

"
Day 35
"

I had this gut feeling that maybe Jon should play his Idol just in case. But we really trusted Missy, Natalie and Baylor and we got screwed.

"
"

(tearfully) It was really hard after Tribal. I just felt like since the merge everybody loved me and Jon. I don't see people, ever, ever in real life saying bad things about Jon. It was really hurtful and I just snapped. I went off on Natalie.

"
"

It's good that Jaclyn had a fit in front of everybody 'cause if anybody was trying to work with her, it's not happening. It does scare me a little that now I'm in this situation where I have to trust Baylor and Missy to want to take me to the Final 3 with them 'cause at this point they could technically vote me out unless I win Immunity. But that's what Survivor is. It's a lot of work, but there's a big prize at the end so you gotta put in work if you wanna win this.

"
Day 36
"

We have four days left. I can see the finish line. I can see the Final 3. I can see the Final Tribal. Right now, we're thinking Natalie, my mom and I for Final 3.

"
"

Having Baylor here, we now have two shots at a million bucks. But, not really sure about these challenges. I fractured my foot and I have this hard cast now on my foot. Just, so frustrating. So the gameplay now is for Natalie and Baylor to start crushing these challenges. The last thing we want is for Keith or Jaclyn to win it from here on out.

"
"

Getting beat by a 55-year-old man is not easy. Um, I need to be able to beat him at that Immunity Challenge even with his advantage. It's going to be really tough but if I want my plan to go the way I want it to, then I need to get rid of Keith first.

"
"

I'm at Exile and Jon got voted out. I mean, at this point in the game, the next Tribal, it's basically me or Keith. (tearfully) This game, man, makes you emotional. I've been through a lot in my life. You know, being diagnosed with not being able to have kids and all of that, when I was really young. So, this is one night in the grand scheme of things. I feel like I'm fighting for me and Jon now, for money to have kids in the future. And if Jon was here and he could give you a pep talk he'd be like "You're almost done. You've done way harder things in your life than this. Just rock it out." And I'm going to do that.

"
"

The Reward Challenge was sucky. Keith won which means he got an advantage. You know, it's frustrating because he is the biggest challenge threat.

"
"

The little note said "Read in Private" so I snuck off and read it.

"
"

When I got to the table, it had a few more clues, you know, telling me how the challenge worked. Jeff wasn't there or nothin' to fill me in. I mean, it took me a little while to figure it out. The challenge table was sort of like Foosball. It got four handles and you just pass the ball to a paddle, over an obstacle, to another paddle. Complete that three times, bam, necklace around your neck. There does come a point in the fire service where it's stay and die or jump out the window. It's called flashover. This room is fixing to flashover and you better do something quick-like. It's to the point now, I'm on the hot seat but I think maybe I'm not flashedover yet. I'm ready to go tackle this baby and get that necklace. Your concentration ain't as good as it was when you first started. I outta have this by now but, good grief, man I'm going mentally (grabs forehead in frustration and slaps face) "Oh!" All I can do right now, win challenges and go for that necklace.

"
Day 37
"

Basically I have two decisions at this point. Missy and Baylor feel like I'm definitely going to be with Missy and Baylor. But I can decide to go with Keith and Jaclyn and say "Let's get one of these girls out." I have an Idol for myself tonight if I don't win Immunity but the advantage is basically going to help Keith in the next Immunity Challenge. Totally sucks that he got it. He's going to be the hardest one to beat. I know that I'm safe to the next challenge so it is a big decision on who goes home tonight.

"
"

I'm in the Final 4, you know, like the NCAA basketball playoffs. One more step, and I won't be sitting by this log, I'll be jumping on it.

"
"

Coming back to camp wasn't too bad. (stumbles with words) I don't know. Um, man, alright. Yeah, I outta have this by now, right? Your mind goes on the 37th or 8th or whatever. Um, OK. Alright, here we go. Coming back to camp, after the Immunity Challenge, wasn't too bad, you know. Tonight probably won't be too hard. I mean, Jaclyn knows she's going right up there in the jury.

"
"

I just went through a whirlwind two days, Jon being voted off, feeling alone after that, then going to Exile feeling more isolated and now I'm coming back here. I know that I'm going home and it sucks but I'm like "No, I'm not going to lay down!"

"
"

I know I'm in the Final 4 because of my Idol. I also, you know, know that Missy and Baylor probably won't vote me off because they feel confident. We're so tight, we trust each other.

"
"

One thing's for sure, big moves do win this game and I feel like I've done moves that haven't been as impactful as I'd like but, it's not about anybody else at this point. I'm just thinking about myself. It's either making a big move today. Getting rid of Baylor or Missy and risking losing it all and not making Final 3 or kinda playing it safe and vote out Jaclyn. That's the only fear that I have is that people would be like "Oh, look at the move Natalie made." People are always scared of people who make big moves so if I did something big tonight then tomorrow I could be the one going home. It's scary.

"
"

When I walked into Tribal, I had an Immunity Idol and my plan was basically deciding between keeping Baylor around or Jaclyn around. Trusting two family members in this situation, where I could be the outsider, just seemed like a really dangerous thing. So Baylor went home. Making this move, I realized that I can get rid of a couple but not be the main threat. If Keith wins tomorrow, he'd probably want to vote out Missy over me. This way, I get to go to the Final 3 and I'm not just putting my fate in Missy and Baylor's hands. And Missy's case, in a Final 3, is so much stronger sitting next to Baylor than sitting without Baylor.

"
"

Ugh! It didn't go as planned. Um, so Baylor got voted out. You know, it's a game and I'm OK with it because I don't have to write my child's name down on a voting ballot. I mean, it's a relief and it's a lift off my shoulders. (tearfully) I mean, I guess the fate of my game is like in these other people's hands 'cause I can't compete.

"
"

Tonight's Tribal, I thought I was going home and Natalie totally stepped in and saved my life. I need to win Immunity tomorrow and if I don't, and Natalie does, she's taking me and Missy to the Final 3. Keith is the number 1 threat right now so the goal is to not let Keith win so we can vote him out next.

"
Day 38
"

That was a tough one. Believe it or not, Jaclyn won. And Natalie saved Jaclyn last Tribal so I see no reason why Jaclyn should get rid of Natalie. That means trouble for me, is what it means. Big trouble!

"
"

Jon is gonna die when he sees me wearing the necklace tonight. I can't wait. (elated) I didn't win one Immunity Challenge the whole game and I won the fricking most important one. So tonight I have a huge decision. Who to take to the Final 3? I like to talk everything out. That's how me and Jon played the whole game, just talking everything out, every scenario that we can think of and ultimately, it could be a million dollar decision, it could be a million dollar mistake.

"
"

Day 38, you try to make a pitch to get to the million and Day 39, you're pitching why you deserve the million. I'm far from the million right now. I got to get in the Final 3.

"
"

I gave Jaclyn my pitch. If Jaclyn gets rid of Missy, she's got a better chance with me in the 3 than Missy. Hopefully, she'll visualize that and see.

"
"

The problem with Jaclyn is now, she's wearing a necklace. She knows she's like in the power seat but I want Keith gone and I hope that she doesn't let this power trip go to her head.

"
"

I don't want Jaclyn thinking too much. "I'm trying to tell you to do what's good for you and me here. Just listen to me and let's get rid of Keith." You know. I shouldn't spaz out but you know, this is the end, I have a little bit room to be nervous.

"
"

Jaclyn comes and she goes "How do you feel about voting out Natalie?" And my head like (spins head around while making circling noise) um, well A: number 1 she voted out my kid, and B: "Keep talking!"

"
Day 39
"

When we started there was 10 men, 8 women. For now 3 women to be sitting in the Finals, is pretty cool. Seven men on the jury. I'm so not intimidated by seven men. I have been married and divorced three times so I'm not fearful whatsoever about speaking to these guys. I think tonight is going to be super important for me to really sway 'em, present myself the best I can and no matter how it ends you have the power to be positive about it or dive your head in the sand and become a failure. And that is not who I am.

"
"

I've actually learned a lot about myself. The fact that I was able to navigate through this without the one comfort I've had my entire life, which is Nadiya, and I was able to do this on my own makes me really proud. And I know, our parents will be proud too because they feel like we can't do anything without each other. Now I need to really work though what I'm going to say to the jury. I don't want to leave having any regrets about this Final Tribal. I can't leave anything up to fate. I gotta do the jury job for them. I gotta make them see why they need to pick me and why I deserve to be the Sole Survivor.

"
"

I feel like I was underestimated from the very beginning in this game. Winning the million dollars means a lot more to me than it would another person just because Blood vs. Water is family, it's relationships. And that's what I want most. I want a family with Jon and I can't start a family or give Jon the family that he wants without the money. But the title of Sole Survivor would mean more to me than the money because the title would even further inspire all the girls with MRKH (cries). I want to prove to all the girls that have my syndrome that you can do it. There are ways, never give up. This experience has just made me appreciate and realize how strong I really am. I've been fighting for 39 Days. Tonight is the big one.

"
Challenges
Reward
Challenge: Pole Dancing
Each person will be attached to a rope. The first thing they will do is race to unspool the rope. When they think they have enough rope, they will head out to assemble a bridge by putting wooden poles in various slots along the bridge. Once their bridge is complete, they will then use sandbags to knock down a series of blocks. The first person to finish wins reward.
Reward: Advantage at the next Immunity Challenge (a replica of the challenge to practice with).
Winner: Keith Nale (exiled Jaclyn Schultz)

Reward Challenge: Pole Dancing
Result
Winner
Competitors
Sit-Out
Castaways

Keith

Baylor, Jaclyn, & Natalie

Missy
Immunity (Day 37)
Challenge: Spoon Man
Each person will use two very small paddles to maneuver a ball through a series of obstacles. If at any point the ball drops, they will have to go back to the start. The first person to transfer three balls wins.
Winner: Keith Nale

Immunity Challenge: Spoon Man
Result
Winner
Competitors
Castaways

Keith

Baylor, Jaclyn, Missy, & Natalie
Immunity (Day 38)
Challenge: Temple of the Dog
Each person will race down a down tower via a fireman's pole and slide. They will then maneuver through a series of obstacles collecting bags of puzzle pieces along the way. Once they have their first three bags of puzzle pieces, they will race up the tower via a stairway and drop off their bags at the top. Then they will race back down to get the remaining two bags. They will then head back to the top of the tower and use all their puzzle pieces to solve a puzzle, but there's a twist. When their puzzle is complete, three pieces will be missing. The shapes of those missing pieces will reveal the three numbers needed to solve a combination lock. The first person to get it right and raise their flag wins.
Winner:Jaclyn Schultz

Immunity Challenge: Temple of the Dog
Result
Winner
Competitors
Sit-Out
Castaways

Jaclyn

Keith & Natalie

Missy
Tribal Council
Day 37
Tribal Council 13:
Huyopa
Voted
Against
Voter

Jaclyn
(used Hidden Immunity Idol)

Baylor, Keith, Missy
(votes not counted)

Baylor (2 votes)

Jaclyn, Natalie
VOTED OFF:

Baylor Wilson
Voting Confessionals
Jaclyn's confessional is from her left side angle so the name is not shown.
"

(voting for Jaclyn) It was really fun playing with you. I hope you don't take this too personal.

"
"

(voting for Baylor) Natalie told me to do this and to just trust her. If its not you, its going to be me so hopefully I can trust Natalie.

"
Final Words
"

I feel surprised. That was a really good blindside. I'm super proud of myself. I'm not mad at Natalie. That was a really good move.

"
Day 38
Tribal Council 14:
Huyopa
Voted
Against
Voter

Keith (3 votes)

Jaclyn, Missy, Natalie

Missy (1 vote)

Keith
VOTED OFF:

Keith Nale
Voting Confessionals
No voting confessionals were shown.
Final Words
"

So um... that, well all three of 'em voted for me. It wasn't a blindside. It's three women. I can barely handle one woman at the house, much less three of 'em here. No hard feelings. I love 'em all.

"
Final Tribal Council
Tribal Council 15:
Jury Vote
Voted for
Winner
Voter

Natalie (5 votes)


Alec, Jeremy, Josh, Keith, Wes

Jaclyn (2 votes)

Jon, Reed

Missy (1 vote)

Baylor
SECOND RUNNER-UP:

Missy Payne
RUNNER-UP:

Jaclyn Schultz
SOLE SURVIVOR:

Natalie Anderson
Voting Confessionals
Reed was shown writing down Jaclyn's name on the parchment but he did not give a confessional.
"

(voting for Jaclyn) I love you. I'm so proud that I get to write your name down tonight.

"
"

(voting for Natalie) You did your thing, girl.

"
"

(voting for Missy) Mom, I love you and I think you played the best game no matter what anybody else says and I'll always be your number one fan.

"
Final Results
Reunion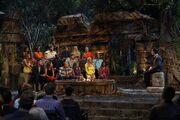 Trivia
Behind the Scenes
Other
This episode was voted the 14th best Survivor episode of all time in the "Top 25 Greatest Episodes of all time" poll by Survivor Oz in 2015.
Natalie Anderson is the fourth consecutive castaway named "Natalie" to reach the finale, and the third consecutive to reach the Final Tribal Council.

Natalie Anderson is the second Natalie to win Survivor, following Natalie White.

This was the first same gender Final Three since Survivor: One World. Coincidentally, it was also all-female.
This episode marks the first time somebody sat-out at the Final Immunity Challenge.
This is the third time that all three members of the Final Tribal Council received at least one vote, following Survivor: China and Survivor: Philippines.

This is the second time where the second runner-up got a jury vote, after the Final Tribal Council of China. In Philippines, there was a second-place tie.

Baylor Wilson becomes the first contestant to be voted out during the Final Five as a direct result of a Hidden Immunity Idol.
Episode Title
The episode title was said by Missy Payne when talking about Jaclyn Schultz having to accept her fate of being the next person voted out.
References