Shane Powers
is a contestant from
Survivor: Panama
.
He is best remembered for his constant outbursts and rivalries with Courtney Marit and Danielle DiLorenzo due to his nicotine withdrawal.
Profile
Shane Powers was born and raised in Omaha, Nebraska. After finishing high school, Powers moved to Los Angeles.
In 1999, Powers and two business partners established a boutique specialty marketing company with the goal of effectively branding products. On the side, Powers makes time to coach his son's football team. Previous employment included work as a club promoter and restaurant manager.
Powers describes himself as witty, outgoing and funny. His most important accomplishment, still in progress, is raising his son. His hobbies include basketball, softball, writing and frequenting bookstores.
Powers believes he can be the Sole Survivor because of his unmatched communication skills. He believes he is also a physical threat and has the ability to manipulate people and not have them be resentful. If he wins, he wants to buy some real equipment and a great field for his son's football team.
Powers currently resides in Los Angeles under the watchful eye of his son, Boston. His birth date is November 28, 1970.[1]
Survivor: Panama
Being one of the four oldest male contestants of the season, Powers started the game at the orange La Mina tribe (informally known as the "Older Men"). Shane's tribemates were art teacher Bruce Kanegai, fighter pilot Terry Deitz, and retired NASA astronaut Dan Barry. Being the youngest member of the tribe, Shane felt like an outsider, feeling like an outcast. With this, he did not do much camp chores and isolated himself further from the tribe. Additionally, his suffering grew worse, as he claimed that his body was collapsing due to his nicotine withdrawal, wherein he confessed that he smoked several packets a day. But during the first Immunity Challenge, Shane went on safe anyway, as La Mina finished second.
On Day 4, the four tribes merged into two and Shane became a member of the new Casaya tribe. His lack of cigarettes took a further toll on him, resulting in several outbursts and rants. His depression made him initially wanting to quit the competition, But despite Shane's volatile demeanor, fellow new Casaya member Aras Baskauskas managed to convince Shane to overcome his condition, and made a four-person alliance. The alliance consisted of Aras, Shane, Danielle DiLorenzo, and Courtney Marit. When the new Casaya lost the Day 6 Immunity Challenge, Shane informed Cirie Fields and Melinda Hyder that one of them is going home that night, and whoever stays goes next the vote after. Meanwhile, Fields and Hyder exploited Shane's mood swings as an opening to possibly break the yet-untested alliance. That night, Cirie's lobbying failed, and her ally Melinda was sent packing. Shane's old La Mina tribemate Bruce later joined the tribe, due the stipulations of his banishment to Exile Island during the tribe switch. Shane's unpredictable behavior started to wear his alliance out, making petty fights with everyone. Despite this, Casaya's dysfunction did not prevent them from winning the next two Immunity Challenges, decimating the rival La Mina tribe to five members.
When Casaya lost the fifth Immunity Challenge, Casaya's incohesiveness reflected during the vote, as their Tribal Council concluded with a puzzling 3-2-1-1 vote, resulting in Bobby Mason's demise. Shane, luckily, was left unscathed, going back to camp without any votes cast against him. Casaya made a comeback by winning the Day 15 combined Reward/Immunity Challenge, further reducing La Mina to their last four members. During the reward, Shane had made amends with his alliance for his misdeeds. Also, he joked to a Panamanian local that he would take all of his clothes in exchange for a cigarette. Shane went back to camp with high spirits after smoking after a long abstinence.
Casaya and La Mina merged with Casaya having the numbers, six to four. While Terry Deitz continued to dominate in the individual Immunity Challenges (while secretly having the much-coveted Hidden Immunity Idol in his back pocket), Shane led the Casaya alliance and voted out Terry's allies Nick Stanbury, Austin Carty, and Sally Schumann. Bruce was forcibly sent home due to severe stomach pains. The continual struggle to survive had driven Shane over the edge, getting upset over not winning individual challenges, confronting Cirie about playing an under-the-radar strategy, and even adopting a piece of wood that he called his "Blackberry" (much to Danielle's annoyance). After Bruce's departure, Terry continued his winning streak, bagging immunity for a fourth consecutive time, thus forcing the once-strong Casaya alliance to turn on each other. Before Tribal Council, Cirie noticed that Shane was apparently protecting Courtney, keeping her until the end because of her unpopularity, stating that anybody could win should they bring Courtney. With this, Cirie concocted a plan of getting rid of Courtney next by making a power play with Aras and Danielle. The plan worked, and Courtney was sent packing, throwing Shane off-guard.
When Terry won the family reward visit with his wife, he granted Shane an overnight stay with his son, Boston. During this time, Shane got to appreciate his life and surroundings a whole lot more. Terry used this as an opportunity to persuade his fellow remaining original La Mina tribemate to once again attempt to oust Danielle. Cirie took notice of this and further fortified her alliance with Danielle and Aras. At the next Tribal Council, not only had he and Terry cast separate votes, the other three gave their votes to Shane, blindsiding him.
At Final Tribal Council, Shane berated both finalists and made it clear that Terry was the most deserving to win the game. Shane then asked the Final Two to pick an number between one and one million. Aras said four while Danielle said ten. As Danielle picked the number closer to his, Shane gave his jury vote to her. Danielle would lose to Aras in a 5-2 vote.
Voting History
Shane's Voting History
Episode
Shane's
Votes
Voted Against
Shane
1
La Mina Tribe Immune
2
Melinda
Cirie, Melinda
3
Casaya Tribe Immune
4
Casaya Tribe Immune
5
Aras
-
6
Casaya Tribe Immune
8
Nick
Austin, Nick,
Sally, Terry
9
Austin
-
10
Sally
-
11
No Tribal Council
12
Danielle
-
13
Danielle
Aras, Cirie,
Danielle
Voted Off, Day 33
Voted for
Sole Survivor
Danielle
Post-Survivor
Trivia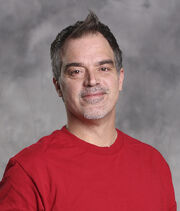 Shane was the youngest member of the original La Mina tribe.
Shane's 35th birthday was on Day 29 during Panama.
Shane's son Boston is the youngest person to participate in a Loved Ones Challenge.

In his campaign video for the Second Chance season, Shane believes his iconic moment was when he dropped to his knees when he saw Boston at the Loved Ones Challenge.[3]

Shane was cut at the last minute from Survivor: Heroes vs. Villains in favor of Russell Hantz.[4]
According to her profile for Survivor: Heroes vs. Villains, Parvati Shallow listed Shane and Cirie Fields as the previous Survivor castaways that she respected the most.
Shane was one of the 32 contestants eligible to be selected to compete on Survivor: Cambodia, but was not chosen in the final vote.[5]

Shane's exclusion from Cambodia was a major surprise to most castaways who did make the final cut. Shirin Oskooi even felt Shane was the one person most deserving of a second chance. [6]
There is a theory out there that Shane did get enough votes to play in the season but he didn't pass the physc test and the Survivor producers weren't gonna take any chances after the Brandon Hantz incident

Jeff Varner claimed to have made a pre-game alliance with Shane for Cambodia.[7]
References