Seems Like a No Brainer is the season finale of Survivor: Redemption Island.
Story
Day 36
Day 37
Day 38
Day 39
Challenges
Duel
Challenge: A Leg Up
Participants would put one foot on one end of a seesaw with the other end having a ceramic vase balanced on it. The castaways would attempt to keep the vase balanced on the end with their their foot still on the seesaw. The last castaway to have their vase balanced on the end of the seesaw would return.
Winner: Andrea Boehlke
Redemption Island
Duel 11
Current
Inhabitants
Challenger

Andrea, Matthew, & Mike

Grant
Duel: A Leg Up
1st
2nd
3rd
4th

Andrea

Mike

Matthew

Grant
ELIMINATED:

Grant Mattos, Matthew Elrod, & Mike Chiesl
RETURNS TO GAME:

Andrea Boehlke
Immunity (Day 37)
Challenge: A Numbers Game
The castaways would race along a balance beam to collect a series of bags containing 100 numbered tiles. The first castaway to place their tiles on a board in order from one to one hundred would win.
Winner: Ashley Underwood
Immunity Challenge: A Numbers Game
Result
Winner
Competitors
Castaway

Ashley

Andrea, Natalie, Phillip, & Rob
Immunity (Day 38)
Challenge: Meso Maze
The castaways would race through a maze to collect four bags of puzzle pieces at four different stations. Once all four bags were collected, the castaways would race to the top of a pyramid and assemble a word puzzle. The first castaway to correctly solve the puzzle would win.
Winner: Rob Mariano
Immunity Challenge: Meso Maze
Result
Winner
Competitors
Castaway

Rob

Ashley, Natalie, & Phillip
Tribal Council
Day 37
Tribal Council 15:
Murlonio
Voted
Against
Voter

Andrea (4 votes)

Ashley, Natalie, Phillip, & Rob

Rob
(used Hidden Immunity Idol)

Andrea
(vote not counted)
VOTED OFF:

Andrea Boehlke
Voting Confessionals
"

(voting for Rob) Rob, you're a great player and my biggest competition so that's why I'm voting for you tonight.

"
Final Words
"

The girls could have done something tonight. They could have made a move. And actually have a little more respect from them. I think by coming back from Redemption Island after winning a big duel put a pretty big target on my back but I'm happy for how far I got. I had a great opportunity, great experience, met some wonderful people and I wouldn't change it for the world.

"
Day 38
Tribal Council 16:
Murlonio
Voted
Against
Voter

Ashley (3 votes)

Natalie, Phillip, & Rob

Phillip (1 vote)

Ashley
VOTED OFF:

Ashley Underwood
Voting Confessionals
"

(voting for Ashley) I've never known anyone that could lay in bed day after day each day.

"
"

(voting for Phillip) I can't believe it's taken 38 days to finally write your name down. I won't miss you. You're a nut case. That's it.

"
Final Words
"

I honestly didn't know I was going home. I probably am an idiot for thinking that (chuckles) 'cause I was the biggest threat that Rob could have taken to the Final Three. And as much as I would love to be sitting there in the Final Three, I still have nothing to hang my head about and I'm proud of how I played the game, and I wouldn't change anything.

"
Final Tribal Council
Tribal Council 17:
Jury Vote
Voted for
Winner
Voter

Rob (8 votes)


Andrea, Ashley, David, Grant, Julie, Matthew, Mike, & Steve

Phillip (1 vote)

Ralph

Natalie (0 votes)
None
SECOND RUNNER-UP:

Natalie Tenerelli
RUNNER-UP:

Phillip Sheppard
SOLE SURVIVOR:

Rob Mariano
Voting Confessionals
"

(voting for Rob) No big surprise here. You did a great job. I'd much rather of played this game with you than against you, but, hey, you know it's the way it works.

"
"

(voting for Phillip) Hey, Phillip. Take that money and spend it wisely. (...) and I feel sorry for you. And I love you, man. Have a great one.

"
Final Results
Reunion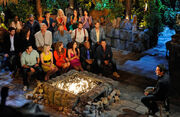 David Murphy proposed to his girlfriend Carolina Eastwood (from Survivor: Tocantins), who was sitting in the audience. She accepted and would join David and the rest of the cast on stage at the end of the reunion.
Rob revealed Grant was still very hurt about Rob's choice to blindside him despite it being due to his being a huge winning threat, and had not responded to his calls or texts in months. He tried to apologize and make up as friends with Grant at the Reunion but Grant refused.
Phillip Sheppard was confirmed to have been a former Federal Agent after all.
Grant Mattos married Canadian actress Christina Cox between the show's taping and the Reunion.
Andrea and Matt had maintained a long distance relationship since the show taping concluded, although they were not committing to a serious relationship due to the geographical difference.
Rob won the Fan Favorite Award over Matt.
Jeff Probst asked Russell if he was going to play Survivor again in the future or throw out his number and never call him to play again. Russell decided he would like to play again, so his number wasn't thrown out.
Trivia
Life at Ponderosa - Final 3
Rob who was planning to return rocks to Julie who she painted for her daughter's, he and Natalie threw them into the ocean after Julie said negative things towards Natalie at Final Tribal Council. The final 3 sits down to eat with the others at Ponderosa. The next day, the jury and finalists sit down to one last meal together before heading home that day and some of their discuss their experience playing the game.[2]
Behind The Scenes
Due to time constraints, the Rites of Passage ritual for the fallen castaways was omitted at the final edit of the episode, though CBS released the said clip on their YouTube account and the CBS website.
The Final Three repainted the back side of the Murlonio tribe flag with "Ometepe."
Episode Title
The episode title is said by Rob Mariano when he comes to the conclusion that at Final Five, the best move is to eliminate Andrea Boehlke at the upcoming Tribal Council after Ashley Underwood won the latest Immunity Challenge.
Other
This episode marked the most contestants still in contention during the season finale, with eight (four who are yet to be voted out, and another four who participated in the final Redemption Island duel).

As a result, this episode holds the record for most castaways eliminated in one episode, with five.

All first-time contestants eliminated before the merge did not have a chance to speak at the live reunion show.
This was the first episode since "We Hate Our Tribe" where a member of Ometepe was eliminated from the game.
This episode was divided into two parts in some countries.
The final 5 Immunity Challenge, A Numbers Game , would later appear as the fifth Redemption Island duel in Survivor: Blood vs. Water.
References
Ad blocker interference detected!
Wikia is a free-to-use site that makes money from advertising. We have a modified experience for viewers using ad blockers

Wikia is not accessible if you've made further modifications. Remove the custom ad blocker rule(s) and the page will load as expected.