Rita Verreos

Contestant Profile
Born:
July 19, 1968
Hometown:
San Antonio, Texas
Occupation:
Single Mom
Survivor Career
Version:
United States
Fiji
Tribe(s):
Ravu
Finish:
14/19
Challenge Wins:
0
Votes Against:
6
Days Lasted:
14
Gallery
Rita Rosina Verreos is a contestant from Survivor: Fiji.
Profile
Retrieved from CBS.com
Born in Venezuela, Rita Verreos moved to San Francisco when she was eight years old. She attended the University of California, Berkeley, before transferring to the University of California, Los Angeles. She graduated magna cum laude with a bachelor's degree in Italian and French Literature.
Verreos has traveled extensively through Central and South America, the Caribbean and Europe. After college, she moved to Mexico City where she lived for 11 years with her then husband and two children. She was a contestant in the Miss Venezuela pageant and walked the fashion runways of Venezuela, Mexico and Los Angeles. In 1990, she appeared in the film "Marked for Death."
In 2003, Verreos moved to Texas with her two children. She currently juggles being a single mom with working part-time on her business as an image consultant who specializes in coaching girls for the Miss Texas, Miss California and Miss USA Pageants. She is also a television spokesperson for a local supermarket chain in San Antonio and Austin, Texas.
Verreos enjoys playing with her children, cooking, listening to "world" music, reading and writing in foreign languages. She also enjoys playing basketball, football and walking. She describes herself as persistent, tough on the outside…tender on the inside, considerate and respectful.
Verreos currently resides in San Antonio, Texas, with her children, her parents, and their golden retriever, Blackie. Her birth date is July 19, 1968[1]
Survivor

This section is empty. You can help by adding to it.
Voting History
Rita's Voting History
Episode
Rita's
Votes
Voted Against
Rita
1
Jessica
Jessica
2
Erica
-
3
Earl
-
4
Ravu Tribe Immune
5
Anthony
Anthony, Earl, Mookie,
Rocky, Yau-Man
Voted Off, Day 14
Post-Survivor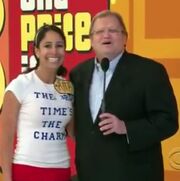 On May 29, 2009, Rita appeared as a contestant on The Price Is Right. She won an ab trainer, drum set, and an electric guitar. However, Rita was unable to make it to the Showcase.[2]
On January 9, 2010, Rita attended Survivor's 10-year anniversary party.
In 2012, Rita married Carl Mergenthaler.[3]
In August 2014, Rita (along with Survivor: Vanuatu castaway Leann Slaby), won an award for "Best Relationship with Fans" at the Reality Awards.[4]
Trivia
References