Natalie Tenerelli
Contestant Profile
Birth Date
May 6, 1991
Hometown
Acton, California
Occupation
Professional Dancer

---

Tribe(s)
Ometepe
Murlonio
Placement
2nd Runner-Up (3/18)
Alliance(s)
Stealth R Us
Challenge(s) Won
5
Vote(s) Against
1
Day(s) Lasted
39
Gallery
Natalie Tenerelli is a contestant from Survivor: Redemption Island.
Profile
Retrieved from CBS.com
Name (Age): Natalie Tenerelli (19)
Tribe: Ometepe
Current Residence: Acton, Calif.
Occupation: Professional Dancer
Personal Claim to Fame: Being the youngest female to play the game.
Inspiration in Life: Lady Gaga. Haha, just kidding. My parents have worked extremely hard to give me a good life. They have made it possible for me to follow my dreams and never give up in life. I would hope that in the future I could be half as good of a parent myself.
Hobbies: Dancing, spending time with friends and family, and trying to cook...sometimes this ends badly.
Pet Peeves: When people chomp their food.
3 Words to Describe You: Determined, spontaneous and positive.
SURVIVOR Contestant You Are Most Like: Natalie White from Samoa.
Reason for being on SURVIVOR: To have an experience of a lifetime and prove to myself that I can do anything that I put my mind to.
Why you think you'll "survive" SURVIVOR: I have never quit anything that I have ever done and hopefully my ability to form good relationships with people will help me to "survive" 39 days in this game!
Reason why you think you will be the Sole Survivor: I have the charm to win people over and a good intuition about people and their intentions. People may suspect me to be young and naive, but they will be fooled![1]
Survivor: Redemption Island
Natalie Tenerelli ended up on the Ometepe Tribe with Rob Mariano who took on a mentor type role with young Natalie, and quickly aligned with him, Ashley Underwood, Grant Mattos, Phillip Sheppard, and Andrea Boehlke on a 6 person Stealth R Us alliance. Her 3 closest allies and friends throughout were Ashley Underwood, Rob Mariano, and Grant Mattos. Due partly to her close bond with alliance leader Rob, and also due to being seen as the least threatening of her alliance she was rarely targetted. The alliance would dominate the game and become the final 6 left. Andrea Boehlke would be eliminated first. Ashley Underwood was going to be voted out next, but after Ashley unexpectedly won immunity, Rob decided he would be voting out one of his 2 closest allies Grant or Natalie, but ultimately decided to vote out his closest friend Grant instead of Natalie due to being a much larger jury and final 4 immunity threat. This was to be the only time all game Natalie would be in any real danger of being voted out. Rob would then convince Natalie to go along with him and vote out her good friend Ashley at the Final 4.
At Final Tribal Council, the jury were mostly unimpressed with Natalie, accusing her of just riding Rob's coattails, exhibiting a poor social game, struggling in challenges, and not doing any work in camp. Julie Wolfe told her that her parents would be disappointed in her gameplay and letting Rob use her the way he did. Jury members Andrea Boehlke, Grant Mattos, Ashley Underwood, and Ralph Kiser suggested to Natalie that she and Rob were creepily close. She would receive 0 votes to win Survivor, and finish in 3rd place, losing to Rob and Phillip in a 8-1-0 vote. She is regarded as one of the biggest goats in Survivor history.
Voting History
Natalie's Voting History
Episode
Natalie's
Votes
Voted Against
Natalie
1
Kristina
-
2
Matthew
-
3
Ometepe Tribe Immune
4
Kristina
-
5
Ometepe Tribe Immune
6
Ometepe Tribe Immune
7
Ometepe Tribe Immune
8
Matthew
Individual Immunity
9
Mike
-
David
-
10
Julie
-
11
Ralph
-
Steve
-
12
Andrea
-
13
Grant
Grant
14
Andrea
-
Ashley
-
Jury Votes
for Natalie
-
Second Runner-Up, Day 39
Post-Survivor
Natalie became the guest of Survivor After Show, hosted by Parvati Shallow. Parvati compared her to Survivor: Caramoan contestant Julia Landauer, the Skype guest of the episode, and said that Natalie and Julia would make a great alliance.
Natalie is currently a dancer for the NBA's Los Angeles Clippers.
According to a December 2015 interview with Survivor: Worlds Apart castaway Max Dawson, Natalie is still friends with Ashley Underwood, Andrea Boehlke, Rob Mariano, but also talks with Matthew Elrod/Wyatt Nash, Phillip Sheppard, and Grant Mattos from time to time.[2]
Natalie, along with the Los Angeles Clippers, attended the March 14, 2016 taping for The Late Late Show with James Corden.[3]
Natalie attended the primetime Survivor edition of The Price Is Right on May 23, 2016. However, Natalie herself did not compete.
Trivia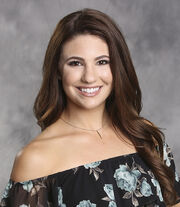 References
Survivor: Redemption Island Castaways
Ometepe

Andrea

Ashley

Francesca

Grant

Kristina

Matthew

Natalie

Phillip

Rob
Zapatera

David

Julie

Krista

Mike

Ralph

Russell

Sarita

Stephanie

Steve