Natalie Tenerelli is a contestant from Survivor: Redemption Island.
A member of the commanding Ometepe Alliance, Natalie was taken far into the merge despite disagreements with its members, especially Phillip Sheppard. However, her loyalty ended up being her downfall, as she received third place in the Final Tribal Council, ending up with 0 votes to win.
Profile
Retrieved from CBS.com
Name (Age): Natalie Tenerelli (19)
Tribe: Ometepe
Current Residence: Acton, Calif.
Occupation: Professional Dancer
Personal Claim to Fame: Being the youngest female to play the game.
Inspiration in Life: Lady Gaga. Haha, just kidding. My parents have worked extremely hard to give me a good life. They have made it possible for me to follow my dreams and never give up in life. I would hope that in the future I could be half as good of a parent myself.
Hobbies: Dancing, spending time with friends and family, and trying to cook...sometimes this ends badly.
Pet Peeves: When people chomp their food.
3 Words to Describe You: Determined, spontaneous and positive.
SURVIVOR Contestant You Are Most Like: Natalie White from Samoa.
Reason for being on SURVIVOR: To have an experience of a lifetime and prove to myself that I can do anything that I put my mind to.
Why you think you'll "survive" SURVIVOR: I have never quit anything that I have ever done and hopefully my ability to form good relationships with people will help me to "survive" 39 days in this game!
Reason why you think you will be the Sole Survivor: I have the charm to win people over and a good intuition about people and their intentions. People may suspect me to be young and naive, but they will be fooled![1]
Survivor: Redemption Island
This section is empty. You can help by adding to it.
Voting History
Natalie's Voting History
Episode
Natalie's
Votes
Voted Against
Natalie
1
Kristina
-
2
Matthew
-
3
Ometepe Tribe Immune
4
Kristina
-
5
Ometepe Tribe Immune
6
Ometepe Tribe Immune
7
Ometepe Tribe Immune
8
Matthew
Individual Immunity
9
Mike
-
David
-
10
Julie
-
11
Ralph
-
Steve
-
12
Andrea
-
13
Grant
Grant
14
Andrea
-
Ashley
-
Jury Votes
for Natalie
-
Second Runner-Up, Day 39
Post-Survivor
Natalie became the guest of Survivor After Show, hosted by Parvati Shallow. Parvati compared her to Survivor: Caramoan contestant Julia Landauer, the Skype guest of the episode, and said that Natalie and Julia would make a great alliance.
Natalie is currently a dancer for the NBA's Los Angeles Clippers.
According to a December 2015 interview with Survivor: Worlds Apart castaway Max Dawson, Natalie is still friends with Ashley Underwood, Andrea Boehlke, Rob Mariano, but also talks with Matthew Elrod/Wyatt Nash, Phillip Sheppard, and Grant Mattos from time to time.[2]
Natalie, along with the Los Angeles Clippers, attended the March 14, 2016 taping for The Late Late Show with James Corden.[3]
Natalie attended the primetime Survivor edition of The Price Is Right on May 23, 2016. However, Natalie herself did not compete.
Natalie, along with Caleb Reynolds, appeared on the second episode of Beyond the Buff, a Facebook live series which discusses the episode of Survivor which aired the previous day.[4]
Trivia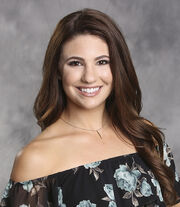 Natalie is the youngest castaway in Survivor: Redemption Island, and the youngest finalist in Survivor history, being 19 years old at the time of filming.
In rewards where Jeff Probst stressed that there would be alcoholic and non-alcoholic beverages in the reward, he was referring to Natalie being underage at the time. It should be noted that the legal drinking age in Nicaragua is actually 18, but castaways have to abide by both U.S. and local laws.
Grant Mattos stated that he was proud of Natalie since she was able to be on Survivor at such a young age and that he wouldn't have been able to do it if he were her age.
Natalie was one of 32 contestants eligible to be selected to compete on Survivor: Cambodia,[5] but was not chosen to be on the final cast.
References
Ad blocker interference detected!
Wikia is a free-to-use site that makes money from advertising. We have a modified experience for viewers using ad blockers

Wikia is not accessible if you've made further modifications. Remove the custom ad blocker rule(s) and the page will load as expected.