Attention to All Users of the Survivor Wiki.
We please ask that you do not post any spoilers to any of the pages of information to the upcoming seasons of 25 and 26. Because there are users that do not wish to know of any spoilers at all.
Welcome to Survivor Wiki!
We're dedicated to the cause of providing accurate information regarding Survivor and you can join in!
Survivor Wiki is home to 2,753 articles and pages since 2006.
New to the wiki? Click here to get caught up.

---
The Survivor Wiki is a free encyclopedic reference on the topic of the American television show Survivor. Survivor Wiki is written by a collaboration of fans and readers in order to give other fans an up to date and reliable source about Survivor.
Disclaimer: This website is neither affiliated or powered by Survivor, CBS, Mark Burnett or Jeff Probst. This site is an unofficial fan-based Survivor source.
---
---
---

Survivor is an American version of the Survivor reality television game show, itself derived from the Swedish television series Expedition Robinson originally created in 1997 by Charlie Parsons. The series premiered on May 31, 2000 on CBS. It is hosted by Jeff Probst, who is also an executive producer, and also executive produced by Mark Burnett and original creator Charlie Parsons.
The premise is to maroon a group of strangers (as one or more tribes) in a desolate locale, where they must provide food, water, fire, and shelter for themselves, while competing in challenges to earn either a reward, or an immunity from expulsion from the game in the next of the successive votes for elimination. While much rarer than elimination by vote, medical conditions, such as injury or infection, have eliminated several contestants. The remaining few would then face a jury historically composed of the most recent eliminated players. That jury interrogates the final few, and then votes for the winner of the title of Sole Survivor and a million dollar prize.
---
| | | |
| --- | --- | --- |
| follow us on | our latest tweets (more) | Survivor_Tweet latest tweets (more) |
---
---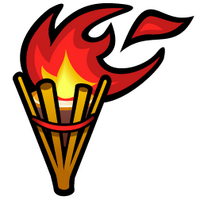 Click on the torch to go to Wiki Activity.



Chapera is a tribe from Survivor: All-Stars.

The most dominant of the three tribes in Survivor: All-Stars, Chapera was a powerhouse, performing the strongest in challenges and having the most livable shelter. While the tribe did not have previous winners as was the case with the other two tribes, Chapera produced the winner of the season, Amber Brkich, who later married the season's runner-up, Rob Mariano.
User:Sesefied is our "User of the Month!" Nominations open again in July!
What is your opinion on the name Survivor Caramoan?