Hunter Ellis

Contestant Profile
Born:
July 5, 1968
Hometown:
La Jolla, California
Occupation:
Former Navy Fighter Pilot
Survivor Career
Version:
United States
Marquesas
Tribe(s):
Maraamu
Finish:
14/16
Challenge Wins:
0
Votes Against:
4
Days Lasted:
9
Gallery
Charles Hunter Ellis is a contestant from Survivor: Marquesas.
He is remembered for his leadership over the Maraamu tribe and for being the first alpha male to be voted out of a struggling tribe in the show's history.
Profile
Retrieved from CBS.com.
Hunter Ellis was born in Alexandria, Virginia, and spent many years moving around as part of a U.S. Navy family. Growing up both in California and Virginia, Ellis spent several years in Virginia Beach before graduating from high school in Alexandria.[1]
Part of a family with a strong tradition in the United States Navy, Ellis is the grandson of Vice Admiral Donald Engen. Ellis graduated from the University of Southern California with a bachelor's degree in political science, before entering the Navy as an aviator. He graduated first in his flight class, and during his ten-year military career, he amassed 433 carrier landings and more than two thousand hours of flight time in the F/A-18 Hornet. After his discharge, Ellis worked for a time as a pilot for FedEx Corporation.
Ellis attended the University of Southern California where he was a member of the Alpha Tau Omega Fraternity. After receiving a Bachelor of Arts degree in Political Science, he was commissioned as an Ensign in the U.S. Navy and went on to complete Naval Flight Training in Corpus Christi and Kingsville, Texas. Graduating number one in his class, Ellis moved to Corona Del Mar, Calif., to continue his training as an F/A-18 strike-fighter pilot. His operational tours include 2 six-month Western Pacific/Persian Gulf deployments flying Hornets off the U.S.S. Carl Vinson and the U.S.S. Abraham Lincoln while stationed in Lemoore, Calif. Assigned to the "Stingers" of Strike Fighter Squadron 113, he also achieved qualifications as a Landing Signals Officer and as an F/A-18 Flight Demonstration pilot. Ellis ended his tour with the Navy as an F/A-18 tactics instructor in San Diego, Calif., in July 2001. During his career he amassed over 2000 flight hours and 433 carrier landings.
Hunter Ellis currently works as a pilot for a major shipping company. He has also worked as an ocean lifeguard with the Virginia Beach Lifesaving Service. He currently lives in La Jolla, Calif., where he enjoys all outdoor sports. An avid traveler, Ellis makes annual visits to Tavarua, Fiji, and Whistler, British Columbia, to surf and ski, respectively. His birth date is July 5.
Survivor
Hunter started the game on the Maraamu tribe. Originally, he was well liked by the entire tribe, except by Rob Mariano, so he quickly took the leadership position. After losing the first Immunity Challenge, he joined the tribe in eliminating tribe outcast, Peter Harkey.
Over the next few days, Hunter formed a strong friendship with tribemate Gina Crews. He also bonded with Patricia Jackson, affectionately referring to her as "Mom". After losing the Immunity Challenge again, Hunter and Gina thought the smartest move would be voting off the weak, Sarah Jones, who had a strong alliance with Hunter's enemy Rob, while Rob and Sarah targeted Hunter's ally, Patricia. Hunter talked to Sean Rector and Vecepia Towery about voting with them. At Tribal Council, Sean and Vecepia voted with Rob and Sarah, resulting in Patricia's elimination. Unfortunately for Hunter, Rob and his alliance of Sarah, Vecepia, and Sean had the majority over the tribe.
Upon returning to camp, Maraamu erupted into chaos, with Hunter and Gina annoyed at Sarah for her comments at the last Tribal Council and Sean and Sarah annoyed at Hunter for his apparent lack of respect towards them. The tension within the tribe cleared up by the next day and Hunter resumed his position as a weatherman on Maraamu's Morning Show. Despite the tribes newly found comradery, Hunter still was annoyed with Sean due to his overconfidence. Hunter attempted to rally the tribe before the next Immunity Challenge with a speech about having a "winning attitude" to no avail, as Maraamu lost their third straight Immunity Challenge. Hunter and Gina once again targeted Sarah. He tried to convince Sean and Vecepia to vote with them, but Rob's control over the tribe was too strong. At Tribal Council, Rob convinced his alliance to vote off his enemy, Hunter. Hunter became the third person voted out of Marquesas and finished in 14th place.
Voting History
Hunter's Voting History
Episode
Hunter's
Votes
Voted Against
Hunter
1
Peter
-
2
Sarah
-
3
Sarah
Rob, Sarah,
Sean, Vecepia
Voted Off, Day 9
Post-Survivor
In an article published on December 1, 2003, People Magazine named Hunter as one of the 20 sexiest men on Cable Television.[2]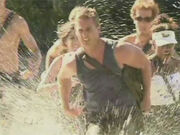 Years after competing in Survivor, Hunter once became part of the Survivor Dream Team, who test runs challenges before the contestants perform them, for a documentary.
Currently, Hunter works as actor, producer, and host for television.
On January 9, 2010, Hunter attended Survivor's 10-year anniversary party.
Hunter has since married and has two children.[5]
A picture of Hunter is featured on the packaging of the Atomic Beam flashlight released in stores in 2017.[6]
Trivia
References